A Cup of Tea with... Gloria's Bayo Gbadamosi
Posted on 25 July 2017.
Posted in: HT Blogs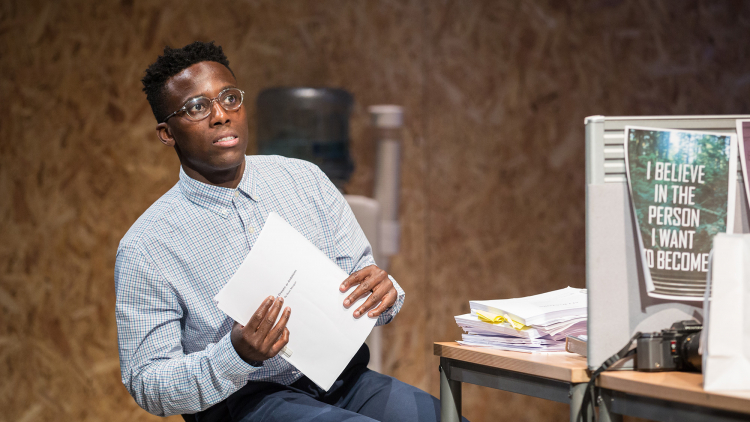 We chat to actor Bayo Gbadamosi about Olivia Coleman, his favourite superhero and alternative career paths. Bayo plays Miles in Gloria which is now playing on the Main Stage until 29 July. 
Welcome to Hampstead, Bayo. You've only got one week left of Gloria - how's it all been going?
It's been great! Hampstead is such a lovely theatre to work at. Everyone is so welcoming and laid-back. I'm a massive fan of the market right on the theatre's doorstep too! It also doesn't hurt to be working on a fantastic play with a company I really love.

Can you describe Gloria in a nutshell?
Without giving too much away, Gloria is a razor-sharp dark comedy about ambition, competitiveness and hierarchy which raises questions about how we deal with, package and commodify tragic events.
What attracted you to Gloria?
I was really attracted to Brandon's whip-smart style of writing. Even the way he writes his stage directions is fascinating. It keeps you engaged, laughing and enjoying the world of this magazine office and as soon you get comfortable, he pulls the rug from underneath you and the play goes down a totally different course. I remember calling my agent and telling her not to read the whole script to avoid spoilers, even before I got the job.
I was also very keen on the challenge of playing multiple characters that are so different from one and other. It's a lot of fun and a great opportunity as an actor to show some range.

What is your favourite line in the play (without giving too much away…)?
"Austin is not editing the piece, you piece of shit!"

What was your first experience on stage?
My first experience on stage was in a youth production of Uncle Vanya by Anton Chekhov at The Young Vic Theatre. I was 17 and it was part of a scheme they have called YoungVic Taking Part, where they get people aged 16 - 25 to create a parallel production to a show that's running in the main space. It was directed by Joe Hill-Gibbins who I later had the joy of working with professionally. I played Doctor Astrov and remember being so excited and fascinated by the whole process. I still have the certificate we all got at the end of it.

Do you have any pre-show rituals?
It changes from show to show depending on what the requirements are, but a constant is listening to music. On Gloria, I have been listening to a lot of Michael Kiwanuka and Leon Bridges.

Any embarrassing on stage moments?
I can't actually think of any. Isn't that boring?

What play have you seen recently that you've really enjoyed? And why?
I recently saw Barbershop Chronicles at The National Theatre and loved it. The whole production was fantastic and the cast worked so well together to create the world of all these barber shops across different countries. It reminded me of many conversations I had been part of in barber shops in London, Nigeria and South Africa. It's back in November, so if you haven't already seen it, you should.
I also have to mention Life of Galileo at The Young Vic. Brendan Cowell's sheer energy was enthralling! Add to that, Lizzie Clachan's mind-blowingly amazing set and a SOLID team of actors, it made for a very exciting trip to the theatre.

If you could perform alongside one person, living or dead, who would it be?
Olivia Coleman. I think she is an AMAZING actress, hilarious and really lovely. So it would be her!

What would be your dream role?
Well since I was 12 I have been a HUGE comic book fan. I collect them and have framed covers in my room. So a dream role would be to play a character within the Marvel Cinematic Universe or DC Extended Universe.
It's hard to pick an actual character because there are so many that I love, but I will say my favourite superhero is The Flash.
What would you be if you weren't an actor?
I studied Law at Uni and then for some reason went back did a Masters in Management and Entrepreneurship. So I imagine if I wasn't an actor, I would be working as a Lawyer or in some sort of Finance capacity.
However, an alternative dream job would definitely be a House & Techno DJ.


Favourite places in London?
South London. Particularly South West. It's home and I love it.


And finally, what's the best advice you've ever been given?
"Work hard to succeed in all things you do, just never take yourself too seriously while you're at it." My mum said this to me while I was in secondary school and it's stuck with me ever since.
KEEPING YOU SAFE AT HAMPSTEAD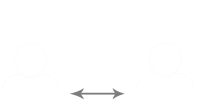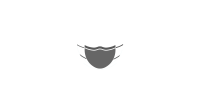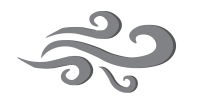 STATE OF THE ART VENTILATION