PRISM 2019 TOUR ANNOUNCED
Posted on 21 May 2019.
Posted in: Announcements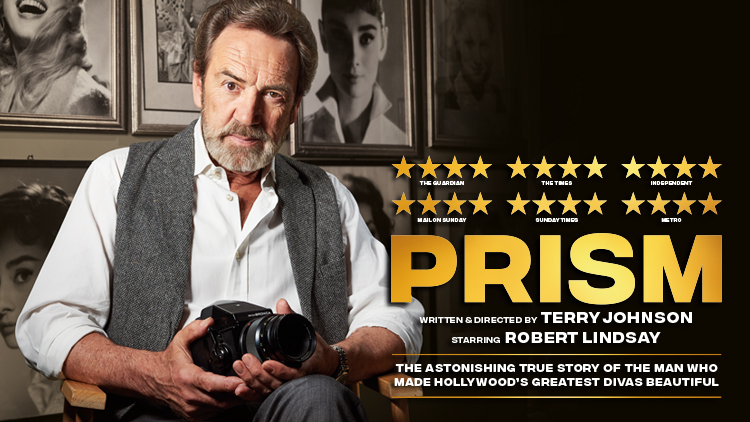 GREG RIPLEY-DUGGAN FOR HAMPSTEAD THEATRE PRODUCTIONS PRESENTS
A HAMPSTEAD THEATRE AND BIRMINGHAM REPERTORY THEATRE CO-PRODUCTION
PRISM
Starring Robert Lindsay and Tara Fitzgerald
Written and Directed by Terry Johnson
With Victoria Blunt and Oliver Hembrough
Designed by Tim Shortall
Lighting by Ben Ormerod
Video Design by Ian William Galloway
Sound by John Leonard
Music by Colin Towns
Following a sold-out run at Hampstead Theatre, Terry Johnson's Prism returns to the stage as part of a national tour with Robert Lindsay reprising his role as the double Oscar-winning cinematic master Jack Cardiff.
Jack Cardiff has retired to the sleepy village of Denham, Buckinghamshire. His days of hard work - and play – on some of the most famous film sets in the world are now long behind him, as are his secret liaisons with some of the most famous women in the world... Surrounded by memorabilia from a lifetime of 'painting with light', the writing of an autobiography should be an easy matter - were it not that Jack would now rather live in the past than remember it…
Greg Ripley-Duggan, Hampstead Theatre's Executive Producer said:
"It's wonderful that Prism is having this further life.  It was a massive sell-out hit at Hampstead in 2017, and Terry's fascinating play and Robert Lindsay's brilliant performance are still talked about by our audiences.  So we're delighted that people all over the country will have the opportunity to see what caused the excitement and to enjoy this very special piece of theatre."
Tour Schedule 2019
Birmingham Repertory (3–12 October)
Richmond Theatre (14-19 October)
Nottingham Theatre Royal (21-26 October)
Edinburgh Kings (28-2 November)
Chichester Festival Theatre (4-9 November)
Guildford Yvonne Arnaud Theatre (11-16 November)
Cambridge Arts (18-23 November)
Malvern Festival Theatre (25-30 November)
Robert Lindsay plays Jack Cardiff. Robert Lindsay has experienced huge success on stage and screen since graduating from RADA in the early 70s. Robert has performed in television comedies and dramas, in Hollywood films, on Broadway and on the West End stage, with seasons at the RSC and the National Theatre. Theatre work includes In Praise of Love (Ustinov Studio, Theatre Royal Bath); Prism (Hampstead Theatre); Dirty Rotten Scoundrels (Savoy); Richard III (RSC); Power (National Theatre); Me and My Girl (London/New York); Becket and Cyrano de Bergerac (both Haymarket); The Entertainer (Old Vic) and Onassis (Chichester Festival Theatre/Novello). Films work includes Disney's Maleficent: Mistress of Evil; Grace of Monaco; Wimbledon; That'll be the Day; Bert Rigby; Loser Takes All; Remember Me; Divorcing Jack; Fierce Creatures and Genghis Cohn. Television work includes Citizen Smith; GBH; Jake's Progress; Hornblower; Oliver Twist; Galavant; Spy and My Family. All this work has given him an international reputation and garnered him many Awards on both sides of the Atlantic, including a BAFTA, a Royal Television Best Actor Award, a Variety Club Award, two Laurence Olivier Awards, a Fred Astaire Award and a Tony on Broadway.
Tara Fitzgerald plays Nicola. Theatre work includes Shipwreck (Almeida Theatre); In Praise of Love (Ustinov Studio, Bath) The Secret Theatre (Wanamaker Theatre); Macbeth (Shakespeare's Globe); Gaslight (Royal & Derngate, Northampton); Farewell to the Theatre (Hampstead Theatre, London); The Winter's Tale (RSC at Stratford and tour); Broken Glass (Tricycle/Vaudeville, London); The Misanthrope (Comedy, London); A Doll's House (Donmar, London); And Then There Were None (Gielgud, London); Clouds (UK tour); A Doll's House (Birmingham Rep/UK tour); A Streetcar Named Desire (Bristol Old Vic); Antigone (Yvonne Arnaud, Guildford/Oxford Playhouse/Old Vic, London); Hamlet (Almeida, London/Broadway) and Our Song (Apollo, London/UK tour). Film work includes The Runaways; The King; Una; Legend; Exodus; Child 44; Five Children and It; I Capture the Castle; Dark Blue World; Rancid Aluminium; New World Disorder; The Snatching of Bookie Bob; Conquest; Childhood; Brassed Off; The Englishman Who Went Up a Hill But Came Down a Mountain; A Man of No Importance; Sirens and Hear My Song. Television work includes Belgravia; Poirot: The ABC Murders; The Strike Series; Churchill's Secret; Death in Paradise; Game of Thrones (Seasons 3,4 and 5); In the Club; The Musketeers; The Body Farm; U Be Dead; Waking the Dead; Jane Eyre; The Virgin Queen; Rose and Maloney; Like Father Like Son; Miss Marple – The Body in the Library; Love Again; Murder in Mind; In the Name of Love; Frenchman's Creek; Little White Lies; The Woman in White; The Student Prince; The Tenant of Wildfell Hall; The Vacillations of Poppy Carew; Cadfael; Fall From Grace; Six Characters in Search of an Author; Anglo-Saxon Attitudes and The Camomile Lawn. 
Victoria Blunt plays Lucy. Theatre work includes Macbeth; Midsummer Night's Dream; Twelfth Night and Romeo and Juliet (all Watermill Ensemble for The Watermill Theatre, Newbury); A Christmas Carol (RSC); Lady Windemere's Fan and Dead Funny (Vaudeville, West End); Once Upon a Christmas (Unicorn Theatre, London) and Newsrevue (Canal Cafe Theatre, London). Film work includes Ammonite. Television work includes Borderline.
Oliver Hembrough plays Mason. Theatre work includes The Hired Man (Queens, London); Superblackman (B.A.C, London); Friday Night Sex (Royal Court, London); A Further Education and Seminar (both Hampstead Theatre, London); Insignificance (Arcola, London); Mamma Mia (West End); Oh, What a Lovely War! (Theatre Royal Stratford East); Echo's End (Salisbury Playhouse); Wasted (West Yorkshire Playhouse); We Have Fallen (Edinburgh Festival); No Wit like a Woman's (Shakespeare's Globe); The Wind in the Willows (Birmingham Rep); Titanic and The Only True History of Lizzie Finn (both Southwark Playhouse, London); As You Like It (Emily Dobbs Productions); Inherit the Wind; Where Have I Been All My Life?; Far From The Madding Crowd; Spring and Port Wine; The Rivals (all New Vic, Newcastle-under-Lyme); Through the Door (Trafalgar Studios, London); Macbeth and Twelfth Night (both Shakespeare in the Gardens, Exeter Northcott); The Deep Blue Sea (Exeter Northcott); Auricular Season 3 and Motel Chronicles (Theatre 503, London); Immortal (Courtyard Theatre, London); Twelfth Night (Bristol Old Vic Company). Film work includes Eunice; Spring in June; Shine; Really Lost (Short) and The Joy of 8 Millilitres (Short). Television work includes The White Princess; Criminal Justice; City of Vice; The Spare Room; Casualty; Junk and Northanger Abbey.
Olivier and Tony Award-winner Terry Johnson's critically acclaimed hit Prism transfers to a tour following its successful run at Hampstead starring Robert Lindsay. Other notable credits at Hampstead Theatre include his new version of Uncle Vanya, Hysteria starring Antony Sher as well as Race; Old Money; Seminar and The Memory of Water. Playwright credits include Dead Funny, Prism and Ken (all Hampstead Theatre); Insignificance; Cries from the Mammal House; Hysteria; Piano/Forte and Hitchcock Blonde (all Royal Court); The Graduate and Mrs Henderson Presents (both West End); Cleo, Camping, Emmanuelle and Dick and The London Cuckolds (both National Theatre). Other credits as Director include Oh What a Lovely War and Fings Ain't What They Used T'Be (both Theatre Royal Stratford East; marking the 50th Anniversary of Joan Littlewood's Theatre Workshop); Lost Land and The Libertine (both Steppenwolf Theatre, Chicago); Dumb Show (Royal Court). West End and Broadway directing credits include The Duck House; End of the Rainbow; The Prisoner of Second Avenue; The Rise and Fall of Little Voice; La Cage aux Folles; Rain Man; Whipping It Up; One Flew Over the Cuckoo's Nest; Entertaining Mr Sloane and Elton John's Glasses. His work for television includes Not Only But Always (Channel 4, which won five International Award nominations, Best Film at Banff and the Best Actor Bafta for Rhys Ifans); The Man Who Lost His Head (ITV); Cor, Blimey!  (ITV) and The Bite for the BBC and ABC Australia.  Nicholas Roeg's film of Insignificance was the official British Entry at Cannes in 1985. His plays have won him the Olivier Award for Best Comedy in both 1994 and 1999, Playwright of the Year Award 1995, Critics' Circle Best New Play Award 1995, The League of American Theatres and Producers Best Touring Play Awards 2001, plus two Evening Standard Theatre Awards, two Writers Guild Best Play Awards, Time Out Best Play Award, the Mayer-Whitworth Award and the John Whiting Award. As a director he has been the recipient of a dozen major theatre awards including the Tony Award for Best Director of a Musical 2010, Olivier Award for Best Musical Revival and Critics' Circle Best Musical Award 2009 all for La Cage aux Folles.
The commissioning of Prism was funded by NEXT DECADE, a joint Hampstead Theatre/AKO Foundation initiative.
The original production was generously supported by Lin and Ken Craig.
KEEPING YOU SAFE AT HAMPSTEAD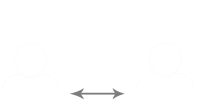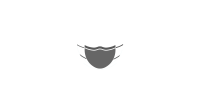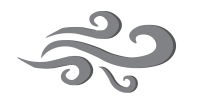 STATE OF THE ART VENTILATION