HAMPSTEAD CLASSICS SEASON ANNOUNCED
Posted on 31 January 2020.
Posted in: Announcements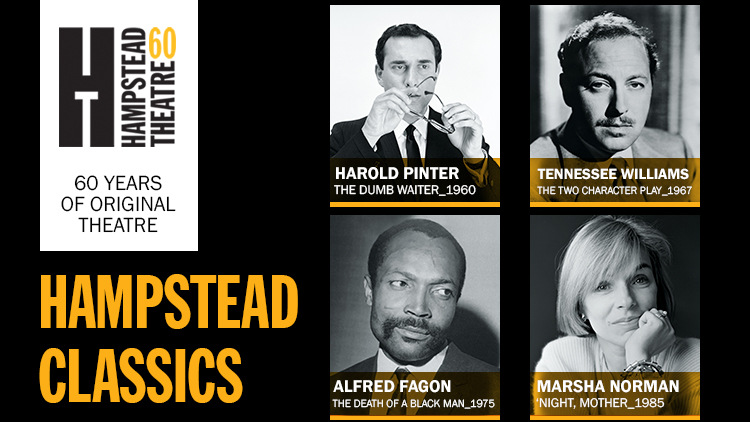 #HTCLASSICS #HT60

HAMPSTEAD THEATRE ANNOUNCES A SEASON OF HAMPSTEAD CLASSICS FOR SPRING/SUMMER 2020


Hampstead Theatre presents its Spring/Summer 2020 programme – Hampstead Classics, celebrating 60 years of original theatre
Four bold plays from the new writing theatre's eclectic archive will be staged by a variety of distinctive British directors
The plays, which all premiered at Hampstead Theatre, will be performed in chronological order and staged in the thrust, to celebrate the theatre's 60th anniversary
Hampstead Classics will open with Harold Pinter's iconic The Dumb Waiter directed by Alice Hamilton, director of recent Hampstead hits, Every Day I Make Greatness Happen and Paradise
Tennessee Williams' innovative and partly autobiographical work, The Two Character Play will follow, directed by Sam Yates, who makes a highly anticipated return to Hampstead Theatre following his critically-acclaimed production of The Phlebotomist
Alfred Fagon's remarkable tribute to the cool culture of London's 1970s King's Road, The Death Of A Black Man will be directed by Dawn Walton, founder and former artistic director of Eclipse Theatre Company
Marsha Norman's ground-breaking play 'night, Mother will close Hampstead Classics with artistic director, Roxana Silbert, directing this Pulitzer Prize winning play
Hampstead Downstairs, the theatre's studio space,will continue to support new voices as Hannah Khalil makes her Hampstead debut with the world premiere of Sleepwalking, directed by Audrey Sheffield
Ruby Thomas, a selected channel 4 playwrights' scheme 2019 winner, will join the theatre to complete her one-year playwright-in-residence attachment after the recent success of her debut play Either at Hampstead Downstairs
The Mono Box and Creative Multilingualism will continue to work with Hampstead Theatre as its associate companies
Public booking open from Wednesday 5 February at 10.30am
Roxana Silbert, Artistic Director of Hampstead Theatre, said: "Selecting only four plays from Hampstead Theatre's massive backlist of world premieres was a real challenge and it really hit home just what a powerhouse this modest theatre is.  The range, diversity and singularity of the voices is extraordinary, as is how often they bring untold stories into the light.
Hampstead has always supported established writers and launched new ones by creating a space for artists to experiment and be heard.  May the next sixty years continue this wonderful tradition."
THE DUMB WAITER
By Harold Pinter
Directed by Alice Hamilton
19 March – 18 April 2020 
Press night: Wednesday 25 March 2020 at 7pm
#HTDumbWaiter
"We've proved ourselves before now, haven't we? We've always done our job. What's he doing all this for? What's the idea? What's he playing these games for?"
Ben and Gus have a job to do. But as they await instructions in a derelict building, they start to receive strange messages via a dumb waiter.
Originally presented in January 1960 as part of the Hampstead Theatre Club's first season, this seminal early comedy from Nobel Prize-winning British writer Harold Pinter returns to Hampstead, sixty years on, directed by Alice Hamilton.
Alice Hamilton is the co-Artistic Director of Up in Arms. Her directing credits include Blood Wedding (Salisbury Playhouse), Paradise and Every Day I Make Greatness Happen (both Hampstead Downstairs), The Weatherman (Park Theatre) and While We're Here (Bush Theatre).
"The most influential, provocative and poetic dramatist of his generation"The Guardian
"The productions… are unfaltering, the playing impeccable. If the Hampstead Theatre Club keeps to this standard, it not only deserves success it will command it"
The Sunday Times (reviewing the original Hampstead Theatre Club's Double Bill of The Dumb Waiter and The Room)
THE TWO CHARACTER PLAY
By Tennessee Williams
Directed by Sam Yates
24 April – 23 May 2020  
Press night: Monday 4 May 2020 at 7pm
#HTTwoCharacter
"A doctor once told me that we were the bravest people he knew.  I said "Why, that's absurd, my brother and I are terrified of our shadows." And he said, "Yes, I know, and that's why I admire your courage so much…"
Fellow actors, brother and sister Felice and Clare have been on tour too long: every town looks increasingly the same until they feel they could be anywhere.  Abandoned by the rest of the acting company, but faced with an audience expecting a performance, they must enact The Two Character Play.  But as their gripping 'play within a play' unfolds, the line between reality and illusion becomes increasingly unclear; as their characters reach out to the outside world, the actors' isolation and uncertainty grows.
One of the foremost playwrights of the twentieth-century, Tennessee Williams spent over ten years writing The Two Character Play, an innovative, partly autobiographical work which he called 'My most beautiful play since Streetcar, the very heart of my life'.  It returns to Hampstead Theatre for the first time in over fifty years with direction by Sam Yates, having received its World Premiere there in 1967. 
Sam Yates makes a highly anticipated return to Hampstead Theatre's Main Stage following his critically-acclaimed production of The Phlebotomist. His theatre credits include Glengarry Glen Ross starring Christian Slater (West End), Murder Ballad (West End) and The El. Train, starring Ruth Wilson (Hoxton Hall).
"It seems to me his finest work for a decade, the most successful piece of sustained theatrical writing he has achieved since the first act of Sweet Bird of Youth.  It is good to see the poet laureate of lost grip recover his own"  Ronald Bryden – The Observer
"Very brave… A haunting play full of ghosts, memories and outcries"
The New York Times (reviewing the Broadway run)
The DEATH OF A BLACK MAN
By Alfred Fagon
Directed by Dawn Walton
28 May – 27 June 2020
Press night: Wednesday 3 June 2020 at 7pm
#HTDeathOfaBM
"At least I am my own boss. No regrets. I choose what I do. I am lucky."
It's 1973, and the King's Road is the epicentre of everything that's cool and happening in the world.  Shakie, an 18-year old super-smart wheeler-dealer, is in his element hustling dodgy African furniture and is starting to make some serious money.  His best friend Stumpie is developing a grand scheme for a London festival of Black music which, with Shakie's backing, is going to make them both super-rich.  So when Shakie's older ex-lover Jackie arrives at his Chelsea flat on a visit, the trio toast the future in champagne. 
But the boys have been living it large for too long and they're heading for dangerous territory… 
Alfred Fagon, for whom the premier Theatre Award for Black British writers is named, was an actor, poet and playwright. The Death of a Black Man was premiered at Hampstead Theatre in 1975, the first work by a British Black writer to be presented there. 45 years on, the play, with its dark exploration of sexual politics and the post-colonial legacy, is still compelling viewing.  Dawn Walton will direct. 
Dawn Walton is the Founder and former Artistic Director and Chief Executive of Eclipse Theatre, the UK's principal Black-led national production company. She makes her Hampstead Theatre directing debut following The Gift (Theatre Royal Stratford East), Red Dust Road (National Theatre Scotland) and Black Men Walking (Royal Court).
'A difficult – because painful – exploration of West Indian identity in white capitalist society.'
Financial Times (reviewing the original Hampstead Theatre production)
'Fagon's writing is sharp, funny, unpretentious... (his) view of the black predicament is complex, thoughtful and compassionate'
Time Out (reviewing the original Hampstead Theatre production)
'NIGHT, MOTHER
By Marsha Norman
Directed by Roxana Silbert
2 July – 1 August 2020 
Press night: Wednesday 8 July 2020 at 7pm
#HTNightMother
"I am worried about you, but I'm going to do what I can before I go.  We're not just going to sit around tonight.  I made a list of things."

Thelma Cates and her daughter Jessie share the old family home out in the country; Jessie looks after her mother now she has begun to show her age.  This particularly quiet evening seems no different to any other – Jessie makes sure that Thelma has everything she needs, preparing food, folding the laundry, putting the bins out.  But a shattering revelation is in the air and, as this may prove to be the last evening they share, they have a lot to talk about…
Winner of the Pulitzer Prize for Drama, Marsha Norman's astonishing play returns after thirty-five years, following its European premiere at Hampstead Theatre in 1985 with direction by Hampstead Theatre's Artistic Director, Roxana Silbert.
Roxana Silbert is Hampstead Theatre's Artistic Director. She was previously Artistic Director of Birmingham REP and Artistic Director of Paines Plough. She has been Associate Director at the RSC, Literary Director of the Traverse Theatre, and Associate Director at the Royal Court Theatre.
'A well-nigh perfect piece of work'
Daily Telegraph (reviewing the original Hampstead Theatre production)
SLEEPWALKING
By Hannah Khalil
Directed by Audrey Sheffield
26 March – 2 May 2020 
Press night: Monday 6 April at 7pm
#HTSleepwalking
"Just ask me. To help. It's what I'm here for. I want to."
Life as a mother is full of challenges: there's the house to be paid for, a high-pressure full-time job, and a daughter who has started having nightmares.  So it's a relief when grandma steps in to help: dealing with the school run, preparing the daughter's dinner, reading the bedtime story… everything suddenly becomes easier.  But what starts as desperately needed support gradually begins to feel pernicious. Best not to look too closely. Questioning things might lead to the end of this essential arrangement. And then the telephone starts to ring in the middle of the night…
Hampstead Theatre presents the world premiere of Hannah Khalil's Sleepwalking, a dark thriller that explores motherhood and the secrets that no mother could ever share with her child. 
Sleepwalking is Hannah Khalil's Hampstead debut.  Hannah's plays include A Museum in Baghdad (RSC/Kiln); Interference (National Theatre of Scotland); Scenes from 68* Years – (Arcola - James Tait Black Award shortlisted) and The Scar Test (Soho).
Audrey Sheffield makes her Hampstead Theatre directorial debut. Her directing credits include the forthcoming Twenty Twenty (Young Vic); The Effect and Apologia (both English Theatre, Frankfurt); The Dark Room (Theatre503 - Nominated for Best Director Offies 2017) and We Too Are Giants (Kiln). 

Priority Booking for Hampstead Friends and The Downstairs Club is now open
Public Booking opens on Wednesday 5 February at 10.30am

See all 4 main stage plays for the price of 3. Offer ends midnight Friday 14 February.

LISTINGS

MAIN STAGE TIMINGS:
Monday – Saturday: 7.30pm
Wednesday Matinees: 2.30pm
Saturday Matiness: 3pm

MAIN STAGE TICKET PRICING FOR PREVIEWS, MONDAYS AND MATINEES:

Full Price: £18/£27/£30
Under 30s/Students: £10/£15*
Seniors (matinees only): £20/£25
Groups For every 9 tickets get the 10th free
Access: £16

MAIN STAGE TICKET PRICING FOR TUESDAY – SATURDAY EVENINGS:

Full price: £25/£32/£37
Under 30s/Students: £10/£15*
Groups For every 9 tickets get the 10th free
Access: £16
*Under 30s and Student concession seats are available in Band A (£15) & Band C (£10)

DOWNSTAIRS TIMINGS:
Monday - Saturday: 7.45pm
Wednesday Matinees: 2.45pm
Saturday Matinees: 3.15pm

DOWNSTAIRS TICKET PRICING:
First five previews: All tickets £5
First twelve performances thereafter: £12
Remaining performances: £14
U30/students: £10
Seniors (matinees only): £10
Access: £6

For press enquiries please contact Clare McCormack: ClareM@hampsteadtheatre.com / 07989 950 871
KEEPING YOU SAFE AT HAMPSTEAD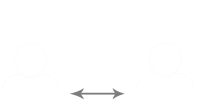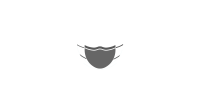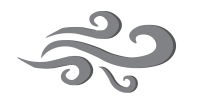 STATE OF THE ART VENTILATION