HAMPSTEAD THEATRE RECEIVES LIFELINE GRANT FROM GOVERNMENT'S £1.57BN CULTURE RECOVERY FUND
Posted on 12 October 2020.
Posted in: Announcements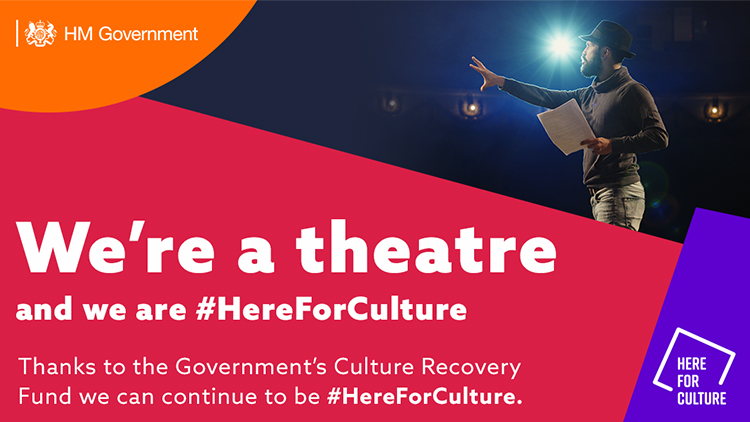 Hampstead Theatre has today received the news that the Department for Culture, Media and Sport will invest a vital package of financial support into the organisation as part of the UK Government's Culture Recovery Fund (CRF).
Roxana Silbert, Artistic Director and Joint Chief Executive of Hampstead Theatre said:
'We are relieved and extremely grateful to have been successful in our application to the Culture Recovery Fund. I'd like to express sincere gratitude to the Chancellor and HM Treasury, the Culture Secretary and DCMS, Arts Council England and the countless others who have played a role in securing this vital lifeline for our industry. This support means that we can keep theatre alive and nourish our communities while we navigate our way through the pandemic.

At Hampstead, we intend to continue to plan and produce a programme of inspiring and thought-provoking work – observing social distancing rules - for our wonderful audiences and participants beyond the limited run of The Dumb Waiter. We now have the opportunity to offer employment to the highly skilled, freelance creative workforce who have been so deeply affected by the closure of our industry. They have our full support and we look forward to having them back and making work in our building as soon as possible.'
Hampstead Theatre is due to reopen for a limited period with Alice Hamilton's 60th anniversary production of Harold Pinter's iconic play, The Dumb Waiter from 18 November to 19 December 2020. Originally programmed for spring, the venue will open with socially distanced audiences and stringent Covid-secure measures in place.
The theatre hopes that The Dumb Waiter is the first of many live productions it can offer during these unusual times while continuing its work with young people. More details to be announced in due course.
Hampstead Theatre had closed its building following UK Government advice on Monday 16 March 2020. During lockdown, it created #HampsteadTheatreAtHome, a free digital streaming series which attracted over 120,000 views from across the world. The series included six critically acclaimed production (five were streamed in partnership with theguardian.com) and ran from 23 March until 3 May 2020.
Culture Secretary Oliver Dowden said:
"This funding is a vital boost for the theatres, music venues, museums and cultural organisations that form the soul of our nation. It will protect these special places, save jobs and help the culture sector's recovery.
"These places and projects are cultural beacons the length and breadth of the country. This unprecedented investment in the arts is proof this government is here for culture, with further support to come in the days and weeks ahead so that the culture sector can bounce back strongly."
Chair, Arts Council England, Sir Nicholas Serota, said:
"Theatres, museums, galleries, dance companies and music venues bring joy to people and life to our cities, towns and villages. This life-changing funding will save thousands of cultural spaces loved by local communities and international audiences. Further funding is still to be announced and we are working hard to support our sector during these challenging times."
Hampstead Theatre is one of 1,385 cultural and creative organisations across the country receiving urgently needed support. £257 million of investment has been announced today as part of the very first round of the Culture Recovery Fund grants programme being administered by Arts Council England. Further rounds of funding in the cultural and heritage sector are due to be announced over the coming weeks.