New Installation: From Page to Stage
Posted on 18 June 2021.
Posted in: Announcements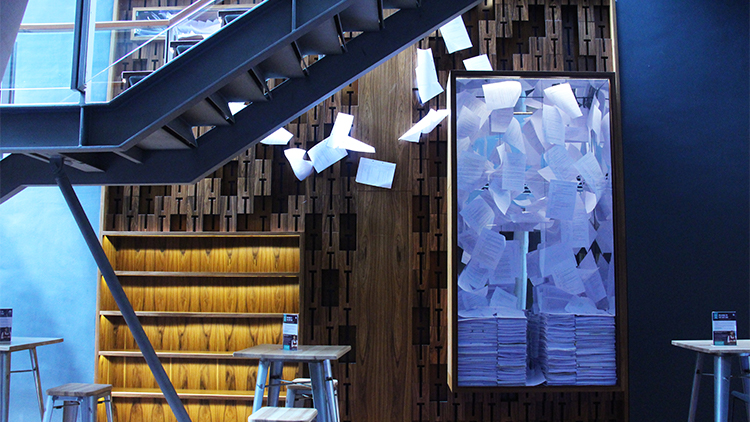 To mark Hampstead's reopening, a new art installation has been introduced to our Lower Foyer. Designer Tom Piper, with model-making by Roisin Martindale, have created 'From Page To Stage', a new sustainable artwork using recycled scripts to celebrate new writing and original thought, which sits at the heart of what we do at Hampstead Theatre.
 

Tom Piper said of the work:
"I wanted to recycle old scripts to make the creation of the installation as sustainable as possible. It took as an inspiration how the role of Hampstead, as a new writing theatre, is nearly always creating the first realisation of a play. How the words of the writer are the imaginative stimulus for the designer and director to create the physical world of the play. I worked with designer Rosin Martindale to create a 1.50 scale model of the stage and auditorium out of old play scripts. We have made a paper version of the split level stages I designed for The Haystack by Al Blyth (directed by Roxanna Silbert), the projection screens in that design now post it notes from dramaturgical debates about new scripts. The pages from the smaller installation spill out and fall in to the larger lower case, where they float in a recreation of the Hampstead HT logo before settling into a pile of scripts. I have sneakily put in a few others I have worked on, IHO by Tony Kushner and The King of Hell's Palace by Frances Ya-Chu Cowhig, as well as an old script I found from the previous building for Disposing Of The Bodies by Hew Whitemore."
Tom Piper's recent design work includes Nora: A Doll's House (Young Vic & Citizens Theatre); The King of Hell's Palace and The Haystack (both Hampstead Theatre); A Midsummer Night's Dream (RSC/UK tour); Pride and Prejudice (Regent's Park/UK tour); Endgame; King Lear; Hamlet and The Libertine (both Citizens Theatre, Glasgow); Red Velvet (Garrick/Tricycle/New York);The King's Speech (Birmingham Rep/Chichester Festival Theatre/UK tour); Orfeo (Royal Opera House); Tamburlaine the Great (Theatre For a New Audience, New York); The Big Meal (Theatre Royal Bath/Hightide Festival); Zorro (Garrick/World tour/Paris/Moscow/Amsterdam/Tokyo & Atlanta); Goodbye to All That and Vera, Vera, Vera (both Royal Court); Richard III; The Tempest and As You Like It (all Bridge Project at BAM/Old Vic). As Associate Designer of the RSC, Tom designed over 30 shows including The Histories for which he won an Olivier Award for best costume design. Tom is the designer for the critically acclaimed exhibition, Blood Swept Lands and Seas of Red at the Tower of London. He received an MBE for services to Theatre and First World War commemorations.
Visit the Lower Foyer at Hampstead Theatre to see the installation in person.