HAMPSTEAD THEATRE RECEIVES THIRD CRUCIAL GRANT FROM GOVERNMENT'S CULTURE RECOVERY FUND
Posted on 19 November 2021.
Posted in: Announcements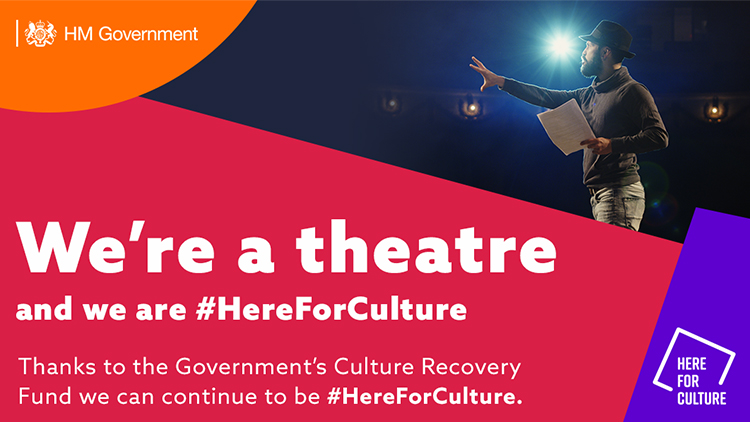 Hampstead Theatre has received the news that the Department for Culture, Media and Sport will invest another vital package of financial support into the organisation as part of the UK Government's Culture Recovery Fund (CRF).
Roxana Silbert, Artistic Director and Joint Chief Executive of Hampstead Theatre, said:
'We have been delighted to be able to welcome back our audiences and creative freelance community since re-opening in May. The unknown impact of a prolonged shutdown has presented many challenges over the course of this year, and so we are relieved and grateful to have been successful in this third round of crucial funding. Once again, I'd like to express my sincere thanks to the UK Government and Arts Council England for making the Culture Recovery Fund available. As audience demand for live theatre and communal experiences continue to build, this funding is vital to our next stage of planning. Not only are we able to present a thrilling collection of world premieres for audiences in 2022, but we can also continue our development work with playwrights, alongside new creative participation projects for local young people and neighbouring communities.'
Hampstead Theatre re-opened on 28 May 2021 with The Death of a Black Man on the Main Stage and Raya Downstairs from 11 June 2021. Since then, The Two Character Play, The Memory of Water, and currently 'night, Mother, have played on the Main Stage, with Big Big Sky, Malindadzimu, and currently little scratch, Downstairs. The theatre returned to full capacity audiences on 27 September, but has maintained extensive health and safety protocols to ensure the ongoing safety and comfort of audiences, company members and staff.
Since re-opening in May, the theatre has continued its work developing playwrights through The Inspire Programme and Writing the Bigger Picture with Mike Bartlett, and actively encouraged writers to use its ongoing Open Scripts Submissions. Hampstead Theatre continues to work with local young people through its Ignite Youth Theatre, and, in partnership with North Camden Zone, has recently launched a new creative participation project for residents of the Hilgrove and Chalcots Estates, led by playwright Deborah Bruce. In addition to the upcoming productions Peggy For You and Folk, Hampstead's Main Stage and Downstairs studio have been programmed with a slate of world premieres through to July 2022. Full details to be announced soon.