iNews: Adapting little scratch for the stage
Posted on 10 November 2021.
Posted in: Hampstead Downstairs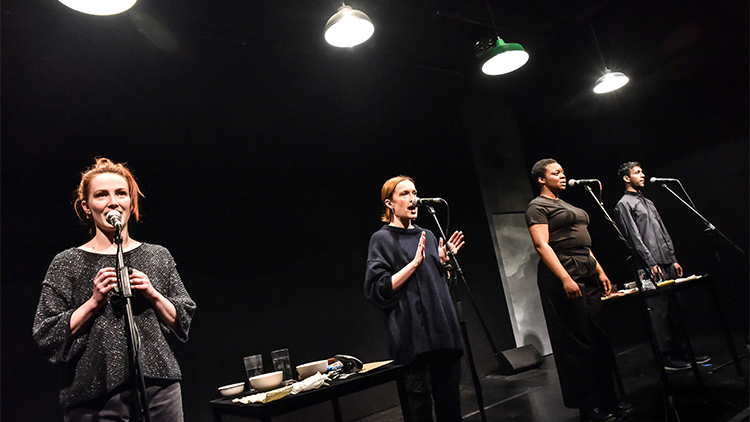 Adapting Little Scratch for stage
Gwen smith, inews

'The novel's form is, as Watson puts it herself, "weird". The protagonist's cacophony of simultaneous, competing thoughts are conveyed in poetic, fragmented prose. At one point, a huffy TripAdvisor restaurant review she's reading runs down one side of the page, while her appalled/amused reaction to it appears on the other.
...
Some Little Scratch fans might find it hard to imagine on stage, given its fierce interiority. Katie Mitchell is not one of those people. When I speak to her – and the play's writer, Miriam Battye – during a rehearsal break, she explains that to her, the novel's raucous overlapping of different streams of thought begged to be spoken out loud.
"It seemed very radical. I thought, 'Oh my gosh, this could be a play'." She got in touch with Battye, who was behind Scenes with Girls, a play about millennial friendships and sexual politics at the Royal Court last year.
"I could almost imagine a playwright sending this in and it being an experimental Sarah Kane kind of text," adds Battye.
With her 2006 multimedia version of Virginia Woolf's The Waves at the National and Anatomy of a Suicide at the Royal Court in 2017, Mitchell has become known for psychologically precise work that pushes boundaries. It's clear why Little Scratch appealed. "It really goes against all the patriarchal systems of thinking about character and personality… That sort of linear narrative with one fixed consciousness," she says.'
Visit iNews online here to read the full piece. 
little scratch runs on Downstairs from 5 November - 11 December