WOLF CUB: REVIEWS ROUND-UP
Posted on 14 April 2022.
Posted in: Hampstead Downstairs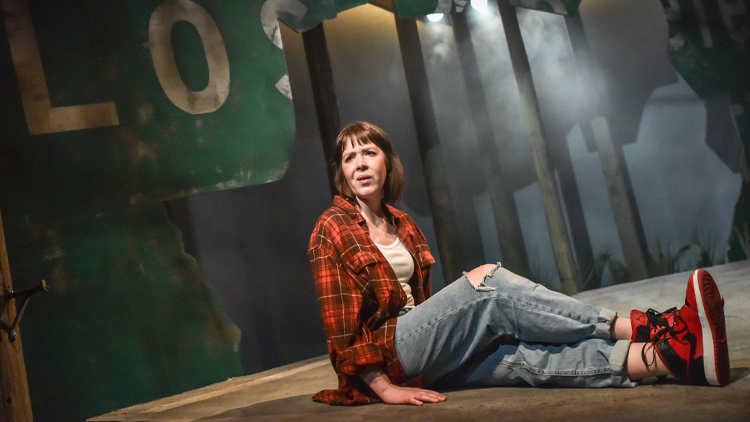 ★★★★ 'An indelible portrait of a lost soul. An extraordinary piece, beautifully performed.' The Times
★★★★ 'The play carries devastating and seismic power... Something new, exciting and dangerous, with an utterly arresting performance.' Guardian
★★★★★ 'Landmark theatre, with a performance of the highest order. Extraordinary... Compelling... Sheer Excellence. Do not miss it.' Broadway World
★★★★ 'This is a brilliant and delicately devised play... with a masterclass performance by Clare Latham.' London Theatre Reviews
'Wolf Cub is well and truly a play for our times' London Unattached
---
★★★★
Wolf Cub review — an indelible portrait of a lost American soul
Clive Davis

, THE Times

'This phantasmagorical monologue — beautifully delivered by the American actress Clare Latham — is much more than the sum of its ideological parts. Walker has created an indelible portrait of an indestructible lost soul, a feral young woman who survives a bleak childhood in rural Georgia, runs wild at high school in California, becomes entangled in drug dealing and goes on an odyssey to central America before returning to Los Angeles in time for the Rodney King trial and the latest earthquake.'

'Walker's poetic writing and Latham's intensity make it compelling. Young Maxine prowls Amy Jane Cook's set — a buckled shard of freeway framed by a shattered LA road sign'

'It's a wild, incantatory travelogue, like an Angela Carter novella with lethal weapons and a touch of American Gothic.'

'Walker's direction is tight and cool, however. Sheila Atim supplies fragments of spookily effective music, while John Leonard's sound design and Bethany Gupwell's lighting evoke the turmoil inside the heroine's head.'

Read the full review here

 
★★★★ 
Wolf Cub review – seismic southern gothic has grit, gore and magic realism
Arifa Akbar

, 

The Guardian

'The play, small in itself, carries its own devastating and seismic power.'

'Claire Latham is utterly arresting... she holds us breathless over the course of the play, which is performed straight through and gathers a compulsive momentum. Her story is partly an angered growl against the world's iniquities but also a reclaiming of sorts – a need to describe her pain but also narrate the gleaming moments of love and joy.'


'Ché Walker, writer and director, manages to make it intimate and epic and his script is rich and literary without being florid. Sheila Atim composes the music and with Bethany Gupwell's lighting and John Leonard's sound design, builds a strong atmosphere. Latham speaks from the nooks and crannies of Amy Jane Cook's scorched-earth set'

'She has an animal femininity reminiscent of Angela Carter's wolf women whose skins are licked off to reveal fur beneath, and there are also echoes of Clarissa Pinkola Estés's Women Who Run With the Wolves.'

'This fairytale element is combined with the grit and gore of the story's southern gothic and together it creates a heady effect. If the lockdowns turned the monologue into an overfamiliar form, Wolf Cub remoulds it into something new, exciting and dangerous again.'

Read the full review here

 
★★★★★ 
BWW Review: WOLF CUB, Hampstead Theatre Downstairs
Gary Naylor

, 

Broadway World

'Sometimes, but not very often, one sits in an audience and one doesn't just see, one feels, with a shiver, the awesome power of theatre - that is what Wolf Cub does to you.'

'Ché Walker, on writing and directing duties, has created a prose poem that uses pyrotechnic language (there's one star-bursting metaphor after another, dazzling similes piled on top of each other, extraordinary scenes of violence and tenderness)'

'Catching this theatrical lightning in a bottle, American actress, Clare Latham, prowls the space, girlish one moment, hard-edged the next, never a victim, but never completely in charge of her own destiny. This is a performance of the highest order'

'The 100 minute monologue zips by, the story of Maxine's life indelibly printed on our minds. On the way home, I wondered if the show, well, experience, was an illusion, because such subject matter can be gruelling, exacting its price on our emotions - but there was no sense of exhaustion in me. Any such fatigue was held at bay by my wonder at the corralling of theatre's unique storytelling weapons to lull us into something that isn't submission, more a wide-eyed astonishment that the familiar can be raised to something different by sheer excellence. It was as if we were repeatedly seeing that first shaft of sunlight after a storm.'
Read full review here.
★★★★
Wolf Club - Review - Hampstead Theatre
Henry Longstaff

, 

London Theatre Reviews

'Walker has crafted a dark and disturbing play that holds no punches when it comes to detail but remarkably is packed with humour and highly engaging.'

'No wonder Ché Walker persuaded Latham to come across the pond to join this production; she is sensational. Being the only actor in a play is, of course, a challenge but Latham made it look easy. She effortlessly moved between characters with pacing and delivery that is exquisite.'

'Accompanying the performance was some stellar design work from Amy Jane Cook... It is rare to see a studio piece with such high calibre work'

'Walker, Latham and company have seriously delivered in the Hampstead Theatre  Downstairs, and for 80 minutes, they had an audience captivated. This is a brilliant and delicately devised play that is particularly perfect if you are looking to branch out into seeing smaller-scale shows that still pack a punch - trust me, you are in safe hands with this one.'

Read full review here.

 
Wolf Cub now plays Downstairs until 7 May.