CAST ANNOUNCED FOR MARY AND BLACKOUT SONGS
Posted on 16 September 2022.
Posted in: Announcements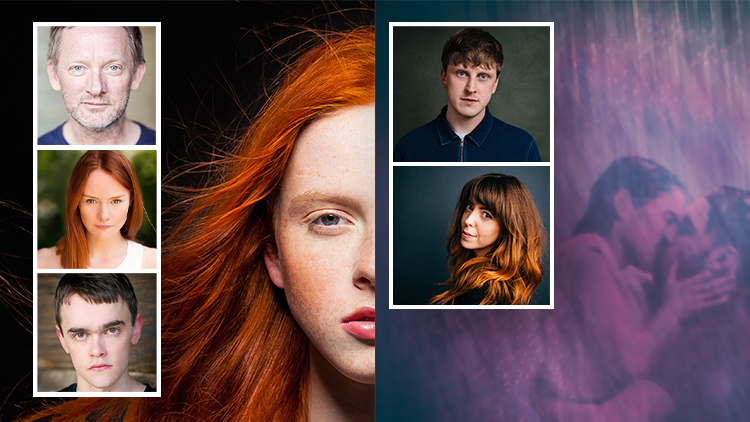 The world premiere of Rona Munro's new political thriller Mary, directed by Hampstead Theatre's Artistic Director, Roxana Silbert will feature:
Douglas Henshall, Rona Morison and Brian Vernel. On the Main Stage from 22 October until 26 November
Silbert is joined by designer, Ashley Martin-Davis; lighting designer, Matt Haskins; composer and sound designer, Nick Powell; movement director, Ayse Tashkiran; casting director, Helena Palmer and assistant director, Marlie Haco
The world premiere of Blackout Songs by Joe White, directed by Guy Jones, will feature:
Alex Austin and Rebecca Humphries. At Hampstead Downstairs from 4 November until 10 December
Jones is joined by designer, Anisha Fields; lighting designer, Christopher Nairne; sound designer Holly Khan and movement director, Iskandar R. Sharazuddin
MAIN STAGE - WORLD PREMIERE
MARY
By Rona Munro
Directed by Roxana Silbert
Designer Ashley Martin-Davis
Lighting Designer Matt Haskins
Composer and Sound Designer Nick Powell
Movement Director Ayse Tashkiran
Casting Director Helena Palmer CDG
Assistant Director Marlie Haco
Dates: Friday 21 October – Saturday 26 November 2022
Press Night:  Monday 31 October at 7pm
Captioned Performance: Tuesday 22 November with captioned post-show Q&A
Audio Described Performance: Saturday 19 November at 2.30pm with a Touch Tour at 1pm
"She made some very poor decisions. You tried to warn her. You love her yet, and that's a credit to you, but you need to think about what's best for Scotland…"
It's 1567. Meet James Melville, an intelligent, charismatic and skilled diplomat who is also one of the most loyal servants of Mary Stuart, the troubled Queen of Scots.  It's a time of political turmoil and the shocking crimes he has witnessed have shaken him.  Now he needs to decide who's guilty, who's innocent, and who is too dangerous to accuse. Change is coming, but at what price?
Rona Munro's new political thriller marks her welcome return to Hampstead after many successes since 1991. Famous for her work on Doctor Who as well as her writing for film, TV and radio, Mary is a standalone play but also a companion piece to The James Plays cycle, winner of the Evening Standard and Writers' Guild of Great Britain Awards in 2014.
Roxana Silbert, Hampstead's Artistic Director reunites with Munro, having previously directed her plays Iron (Royal Court) and Little Eagles (Hampstead).
Douglas Henshall, star of BBC's Shetland and last seen at Hampstead in 2012 as Oliver Cromwell in 55 Days, returns to play Melville. His theatre work includes Network (National Theatre); Betrayal (Comedy) and The Cryptogram (Donmar). For film and television, Shetland (series 1-7); The Small Hand; Outlander; Hotel Taliban and Primeval (3 Series).
He is joined by Rona Morison. Her theatre work includes The Haystack (Hampstead Theatre); The Prime of Miss Jean Brodie (Donmar); The James Plays (National Theatre) and To Kill a Mockingbird (Regent's Park). For film and television, Our Ladies; Solo: A Star Wars Story; The Control Room and Absentia.
Brian Vernel also stars. Theatre work includes Stories (National Theatre); The Seagull (Lyric Hammersmith) and Four Parts Broken (National Theatre of Scotland/Traverse Theatre/Oran Mor). His film and TV work includes, Dunkirk; Star Wars: The Force Awakens; Gangs of London (Series 1 & 2); Collateral; The Tunnel and Dr Who.
***
HAMPSTEAD DOWNSTAIRS – A WORLD PREMIERE
Hampstead Downstairs / Celia Atkin presents
BLACKOUT SONGS
By Joe White
Directed by Guy Jones
Designer Anisha Fields
Lighting Designer Christopher Nairne
Sound Designer Holly Khan
Movement Director Iskandar R. Sharazuddin
Dates: Friday 4 November – Saturday 10 December 2022
Press Night:  Thursday 10 November at 7pm
Captioned Performances: Wednesday 30 November at 7.45pm and Thursday 1 December at 2.45pm
"You told me you loved me, once. You said you carried me. You remember that? You still carry me? Or did you drop me, somewhere along the line?"
A chance encounter at an AA meeting results in a crazy passionate bond…  But later, once they're drinking again, they both have this feeling that they might have been here before, together… They should really get sober and figure it out.  Maybe after one last quick drink…
Joe White is a former Channel 4 Playwriting Award winner whose play Mayfly (Orange Tree) won Most Promising New Playwright at the OffWestEnd Awards.
Guy Jones, who directed Mayfly, returns to Hampstead following his triumphant production of Ruby Thomas' Either.
Blackout Songs is a T.S. Eliot Foundation commission.