HAMPSTEAD THEATRE'S FREE ACTING AND WRITING PROGRAMME FOR CAMDEN RESIDENTS
Posted on 20 February 2023.
Posted in: Announcements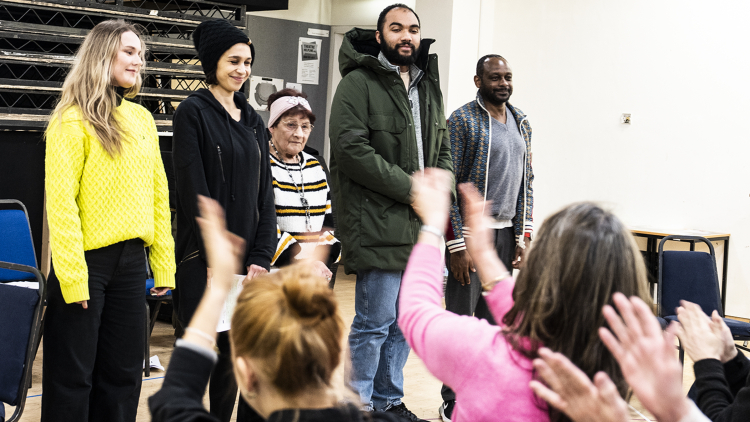 Hampstead Theatre is to continue offering Camden residents free acting and writing activities this spring.
Following the success of last year's Community Creates programme, Hampstead Theatre will be running two ten-week programmes in acting and writing every Tuesday and Thursday starting in March. The programmes are free to attend for Camden residents.
The Writing Programme, starting on Tuesday 16 March, will be led by Hampstead Theatre's Participation Director, Jennifer Davis, and will introduce participants to a variety of writing and storytelling techniques. Everyone attending will be encouraged and supported to write a short play which will be shared in a small, public performance.
The Acting Programme will run every week from Thursday 16 March and will be led by Hampstead Theatre's Birkbeck Resident Assistant Director Sam Edmunds who will be joined by other theatre professionals to explore movement, voice and text. The programme will culminate in a small, public performance.
Jennifer Davis, Participation Director at Hampstead Theatre said:
"Our Community Creates programme is free to attend and open to anyone who lives in Camden. Whether you're curious about acting or want to get creative by putting pen to paper, it offers a great opportunity to meet new people and have fun."
Previous participants have spoken of the benefits of attending the programmes, describing it as an amazing learning experience and an enjoyable way to meet their neighbours.
Community Creates grew out of the success of the North Camden Zone resident-led programme, Hilgrove Creates. Inspired by Hilgrove Creates, Hampstead Theatre and North Camden Zone each led a successful ten-week pilot programme for the residents of the Chalcots and Hilgrove Estates, with the theatre focusing on playwriting and North Camden Zone offering painting, photography and much more.
North Camden Zone are currently offering a variety of activities to get involved with, including a community choir. For more information click here.

The Community Creates programme starts at Hampstead Theatre from 14 March and 16 March. The Writing and Acting programmes are free to attend, but places must be booked in advance. For further details click here or call 020 7722 9301.