INTRODUCING OUR INSPIRE WRITERS FOR 2023
Posted on 22 June 2023.
Posted in: Announcements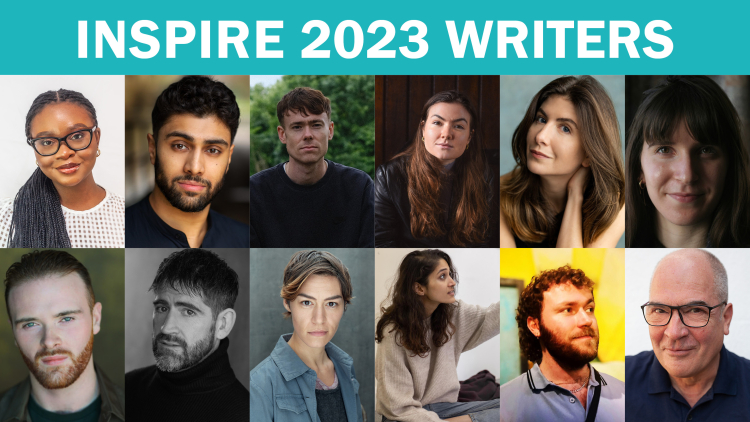 The INSPIRE writers for 2023 have been chosen and their journey on our year-long writing programme is underway. 
INSPIRE is now in its fifth year at Hampstead Theatre and this new intake of writers will get the opportunity and encouragement to work on writing a new full-length play.
The 12 INSPIRE writers are: Lanaire Aderemi, Azan Ahmed, Angus Harrison, Lucy Hayes, Alice McCarthy, Katherine Moar, Alfie JJ Neill, Ric Renton, Lucy Roslyn, Aneesha Srinivasan, Hugo Timbrell and Mark Vegh.
Over the next 12 months the writers will be mentored by the award-winning playwright Roy Williams, alongside a tailored programme of talks, professional readings of the works in development and at the final stage, plus invitations to Hampstead Theatre productions.
Roy Williams said:
"I am so excited with the launch of the fifth year of INSPIRE! Such a wonderful as well as talented mixed group from all backgrounds with amazing stories to tell as well as write. It's going be a great year and I am looking forward to working with them."
Hampstead Theatre's Producer and Chief Executive, Greg Ripley-Duggan, said:
"Despite the recent 100% cut of our Arts Council England NPO funding we are committed to opening doors for writers and our INSPIRE programme does just that. INSPIRE is a really important part of what we do at Hampstead and we're extremely grateful to our supporters who have made this financially possible. As ever we are excited to see what this year's writers will create!"
INSPIRE is made possible through the kind donations of our supporters:
The Noël Coward Foundation, Fenton Arts Trust, Garrick Charitable Trust, The Golsoncott Foundation, Zmira & Rodney Hornstein, Jon & Nora Lee Sedmak, The Thistle Trust and The Harold Hyam Wingate Foundation.