A THEATRE IN EVERY WAY THAT MEANS BUSINESS
Posted on 24 May 2023.
Posted in: Announcements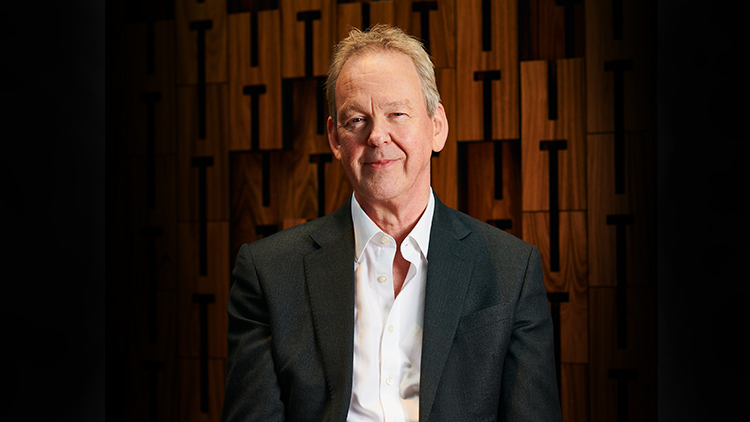 Producer and Chief Executive, Greg Ripley-Duggan talks to Matt Wolf
Greg Ripley-Duggan is recalling the day in November 2022 when he received news that the Hampstead Theatre, which he runs, was having its government funding cut by 100 percent. "The first thing to say is how deeply personal that felt," reflects Ripley-Duggan, producer and chief executive of the time-honoured address that houses under one roof a 378-seat main auditorium and a black box studio licensed to seat up to 102.
"You run these places pretty much as an extension of your life," says Ripley-Duggan, who served on the Hampstead board from 2000 before crossing over in 2010 to an executive capacity as Edward Hall and then Roxana Silbert took on the artistic leadership that both directors have since relinquished. The decision on the part of Arts Council England to sever connections to Hampstead Theatre meant a loss of £766,455, itself a drop of nearly £100,000 in the grant from 2017-18: the figure represents 15 percent of turnover in a good year and considerably more when finances are tight, as they had been at Hampstead in the run-up to the news.
"When your principal stakeholder takes such action, it feels like a slap in the face," he continues, speaking of the shock that reverberated through Hampstead Theatre (and other venues such as ENO) at the time. "You immediately go into a state of chaotic depression. It took us some time to try and figure out, OK, what do we do next: we had three weeks of intense misery and a certain amount of absorbing the news, trying to figure out what it meant."
Ripley-Duggan chose to continue with the season as scheduled and then to start afresh. And so it is that our conversation one May morning some months after last autumn's grim reality finds him bullish about the eight shows – four per auditorium – that will take the theatre through to next March. "I feel pretty confident we can make this work," he says of a heady array of playwrights (Tom Stoppard, Richard Bean and John Logan amongst them) that "gives us a chance to get back on an even keel".
The goal, firstly, is to renew the trust of a faithful audience that had been voting with their feet but whose good will was certainly evident: they showed up in force in March for David Suchet's solo show Poirot and More, A Retrospective, programmed specifically to swell the theatre's coffers, and should warm to the notables promised for the mainstage alongside a spirit of continued adventure in the Theatre Downstairs. The plan, too, is to ramp up Hampstead's level of philanthropy - increasingly in Britain, as has long been true in America, a crucial way forward.
Lauren Gunderson's anthropology, the season-opener in the main house, is a topical thriller for a cast of four women that will find the San Francisco-based playwright represented at the Hampstead at the same time as the West End premiere of her new musical, The Time Traveller's Wife, based on the Audrey Niffenegger best-seller. Gunderson was last seen at Hampstead with Edward Hall's 2018 production of her widely seen two-hander, I and You.
Richard Bean and Richard Wilson, a matchless author-director partnership dating back decades to the Royal Court, are next up with the premiere of To Have and To Hold, a comedy about two 60-year-olds dealing with 90-year-old parents. Following that is the first London revival of Tom Stoppard's dazzling 2006 play Rock 'n' Roll, set between Cambridge and Prague and directed by the writer-director Nina Raine, who saw the director Trevor Nunn's original production twice.
Last of the four is a world premiere from John Logan, the Tony-winning author of the play Red and a three-time Oscar nominee. Two two-handers interwoven one with the other, the characters in Double Feature include Vincent Price and Alfred Hitchcock at the time that Hitchcock was making the Tippi Hedren film, Marnie. Jonathan Kent is set to direct a play that, like its three predecessors, should attract exciting actors. Says Ripley-Duggan: "These are good juicy roles."
The flexible basement auditorium – home to some of the more successful Hampstead shows of late, like Blackout Songs and Folk, both Olivier nominees – includes two plays, Magdalena Miecznicka's Nineteen Gardens and Neil D'Souza's Out of Season, directed by Alice Hamilton, the Hampstead's new Associate Director. Marek Horn and Ed Madden, the writer-director duo behind Southwark Playhouse's terrific 2021 play Yellowfin, re-team for the season opener Octopolis: "a brilliant play that fell into my lap," says Ripley-Duggan. This Much I Know, lauded at its September 2022 premiere at the Aurora Theatre in Berkeley, California, will reacquaint London audiences with Jonathan Spector, author of the timely comedy Eureka Day seen at the Old Vic around the same time.
That leaves six more shows, three in each space, to take into summer, 2024, programming at a theatre that in every way means business. "We're not closing any minute now," says Ripley-Duggan. "There is a future for Hampstead Theatre." Whether or not you partake of the excellent gin options on offer at the bar, I think all of us can drink to that.
Matt Wolf in September, 2023, marked 40 years as an American theatre critic in London.