Biscuits for Breakfast Company Support Camden Foodbank
Posted on 2 June 2023.
Posted in: Hampstead Downstairs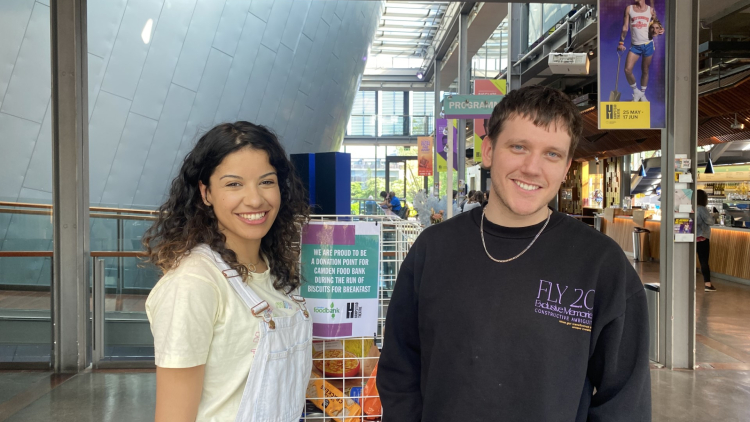 Biscuits for Breakfast cast members Boadicea Ricketts and Ben Castle-Gibbs with the Camden Foodbank donation point at Hampstead Theatre
---
 Biscuits for Breakfast Company Support Camden Foodbank
The Biscuits for Breakfast company are giving their support to Camden Foodbank and encouraging audiences and members of the public to make a foodbank donation during the run of the show.
Biscuits for Breakfast by Gareth Farr is currently playing in the theatre's Downstairs studio space. The play is about two people who meet, fall in love and gradually find themselves slipping into poverty. Food is at the heart of the play which is why the team wanted to support Camden Foodbank.
Playwright, Gareth Farr, who worked at his local foodbank in Truro while writing the play, said:
"According to research 17.7% of households in the UK are classed as Food Insecure and this is a theme that's part of the storyline in my play, Biscuits for Breakfast. I'm really pleased that the theatre is able to support the Trussell Trust and Camden Foodbank by creating a donation point in its foyer during the run of the show so audiences can also play their part."
A donation point for the Camden Foodbank will be located in the theatre's foyer until Saturday 10 June. Donations of non-perishable items are welcomed. A list of urgently needed items can be found here.
Biscuits for Breakfast runs until the 10 June, book now and donate.