DICKIE BEAU INTERVIEWED BY LYN GARDNER
Posted on 24 May 2023.
Posted in: Interviews with cast and creatives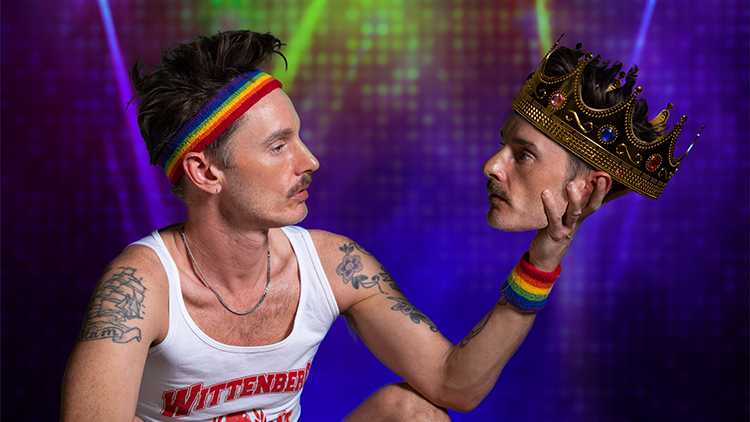 Actor and theatre maker Dickie Beau has never seriously aspired to play Hamlet, but on realising that he was too old to be cast in the role, he admits to feeling as if something had been taken from him that he never knew he had wanted. "I was never going to be offered the chance to play Hamlet, but there was still a pang," he admits ruefully.
If he had, he would have been interested in how "he would fit into me rather than how I would fit Hamlet." Beau sees Hamlet as "an inherently queer character. He has this dad who is an alpha male in every way, a formidable figure in terms of masculine image. But Hamlet's not that kind of guy at all. He's into poetry and the arts. For someone in his position, he is an oddity. Then there's his relationship with Horatio. Many gay actors have played Hamlet, but I don't think I've ever seen a gay Hamlet." Rather impishly, he suggests it would "give Horatio something to do in the play."
The moment to play Hamlet has long passed for Beau, but out of loss, he makes something truly memorable in Re-Member Me, which opens at Hampstead Theatre this month. It's a solo show, but one full of many voices as lip-sync artist extraordinaire Beau acts rather like a medium at a theatrical seance, raising memories and, in the process, the ghosts of Hamlets long past and, in many cases, long dead. I saw an early version of the show, which has subsequently been a hit in Melbourne and New York, at the Almeida in 2017, and it has haunted me since. 
Visit Stagedoor online here to read the full piece.
Re-Member runs on the Main Stage 25 May – 17 June.