HAMPSTEAD THEATRE ANNOUNCES FULL SEASON OF EIGHT NEW PRODUCTIONS
Posted on 18 May 2023.
Posted in: Announcements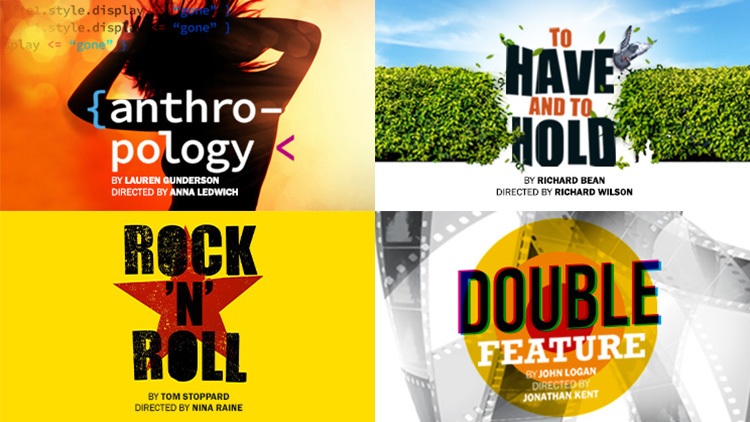 THE WORLD PREMIERE OF ANTHROPOLOGY BY LAUREN GUNDERSON, DIRECTED BY ANNA LEDWICH
RICHARD WILSON AND TERRY JOHNSON CO-DIRECT THE WORLD PREMIERE OF RICHARD BEAN'S NEW COMEDY, TO HAVE AND TO HOLD
TOM STOPPARD'S ROCK 'N' ROLL IS GIVEN A NEW PERSPECTIVE BY DIRECTOR NINA RAINE
DOUBLE FEATURE - A NEW PLAY BY JOHN LOGAN AND DIRECTED BY JONATHAN KENT HAS ITS WORLD PREMIERE
PLUS NEW PLAYS BY MAREK HORN, MAGDALENA MIECZNICKA, NEIL D'SOUZA AND JONATHAN SPECTOR PREMIERE AT HAMPSTEAD DOWNSTAIRS
Hampstead Theatre today announces a full season of eight new productions beginning on 7 September 2023 and running until 16 March 2024.
The season includes three world premieres on the Main Stage – anthropology by Lauren Gunderson, directed by Anna Ledwich; To Have and To Hold by Richard Bean, co-directed by Richard Wilson and Terry Johnson; and Double Feature by John Logan, directed by Jonathan Kent.
A further three world premieres and a UK Premiere will play in Hampstead Downstairs – Octopolis by Marek Horn, directed by Ed Madden; Nineteen Gardens by Magdalena Miecznicka, directed by Alice Hamilton; This Much I Know by Jonathan Spector, directed by Chelsea Walker and Out of Season by Neil D'Souza, also directed by Alice Hamilton.
Completing the season is Tom Stoppard's Rock 'n' Roll which is given a timely new perspective by director Nina Raine.
Hampstead Theatre's Producer and Chief Executive Greg Ripley-Duggan said:
"We're thrilled that, after all the challenges we have had to face in the last few months, we are able to bring together eight fantastic writers and seven brilliant directors in a programme of plays that has Hampstead Theatre's DNA running right through it.
"For over sixty years Hampstead has produced entertaining and thought-provoking original work by the world's finest and most celebrated playwrights, so it's wonderful to be able to continue that commitment with work by Tom Stoppard, John Logan, Lauren Gunderson and Richard Bean alongside an exciting line-up of outstanding work by less familiar writers.
"We look forward to welcoming audiences for this exciting season of entertaining, intelligent and topical plays offering new perspectives on a range of subjects from AI to Alfred Hitchcock and from growing old to rock 'n' roll."
The programme for autumn 2023 marks a new future for Hampstead Theatre following Arts Council England's decision to cut its NPO grant by 100%. Hampstead's future and renewed commitment to present ambitious original work will be driven by ticket sales, commercial income and philanthropic support.
The generosity of major donors and supporters means that Hampstead Theatre is continuing to commission new plays. It will also remain committed to mentoring new writers through its INSPIRE programme which is now in its fifth year and led by Roy Williams. Furthermore, Hampstead Downstairs will remain the home of new plays thanks to the continued philanthropic support of Celia Atkin, who has been the lead donor towards this work since 2017.
Priority Booking is now open for Hampstead Friends, Patrons and members of the Downstairs Club. Public Booking opens at 10:30am on Thursday 25 May. Log into your account if you have an existing membership, or join as a Friend and get early access to tickets, discounts and other exclusive benefits, click here to find out more. 
Book for all four Main Stage shows: anthropology, To Have and To Hold, Rock 'N' Roll and Double Feature and receive 20% off tickets. Only valid until 30 June.