A CUP OF TEA WITH DAVID STURZAKER
Posted on 8 November 2023.
Posted in: Interviews with cast and creatives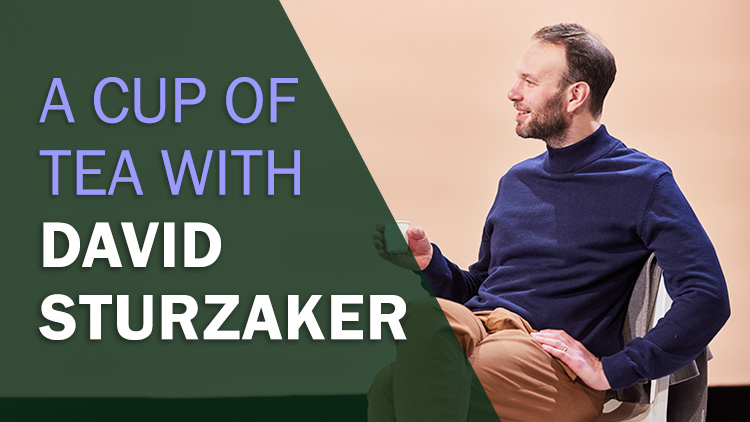 What first attracted you to Nineteen Gardens?
I was intrigued by the way the characters speak to each other. They often speak in a very direct manner but there is the feeling of so much being hidden. I was curious! And once I met Alice and Magda, and talked to them about the production, I just really wanted to be involved.
Tell us a little more about your character John?
John is mid-40s, successful in his career and comes from a very privileged background. On the surface he has a very contented and comfortable life, but below the surface there is a sense of a lack of fulfilment, a desire for something more.
Without giving too much away, what's your favourite line from the show?
'But there was something I had then
and lost
What was that'
Do you have any pre-show rituals?
At the beginning of a run, I like to keep the play in my mind pre-show, but as the run goes on, I prefer to do things unconnected to the play – listen to music, read something else. There's usually a warm up of some sort and dressing room chatter.
What play have you seen recently that you've really enjoyed? And why?
I saw The Motive and the Cue at the National and really enjoyed the performances and the dialogue.
What has been your highlight as an actor so far?
It sounds a bit corny but the fact of doing the job is the highlight. The hard part can be when you're not acting, but when you are, it's a gift that provides such a variety of experiences both professional and personal. My wife and I met doing a play together, I've got lasting friendships with people from various jobs. There are jobs which have been fun and silly and jobs that have been challenging and difficult.
What would your dream role be?
I guess similar to my last answer - it's more about the collective experiences and the variety rather than any one part. There's often also a desire to do something a bit different to what has come just before.
Where's your favourite place in London?
Home.
And finally, what's the best advice you've ever been given?
Not to compare yourself to others. That where you are, is where you're meant to be.
Nineteen Gardens runs on Downstairs until 9 December.