THE AWARD-WINNING THIS MUCH I KNOW CAST ANNOUNCEMENT
Posted on 14 November 2023.
Posted in: Hampstead Downstairs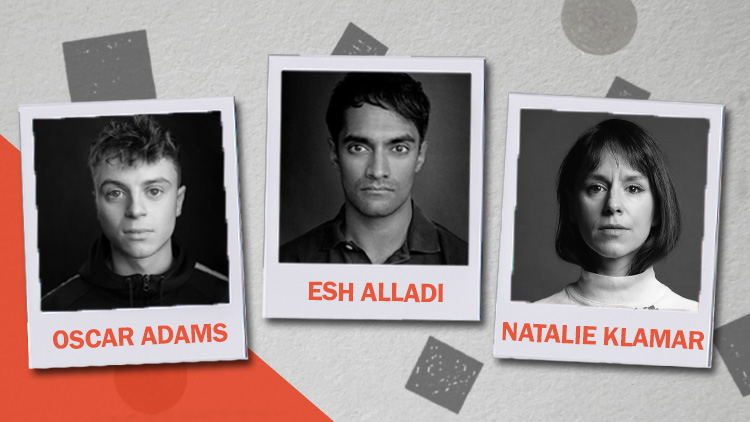 Jonathan Spector's multi award-winning play, This Much I Know, will have its European premiere at Hampstead Downstairs from 13 December – 27 January. An explosive theatrical interrogation of agency and culpability This Much I Know will be directed by Chelsea Walker and will star Oscar Adams, Esh Alladi and Natalie Klamar.
"I'll be gone for a while. Possibly forever. It's nothing you did."
A tenured professor of psychology, Lukesh enjoys a life as organised and logical as his mind. But then his wife vanishes, sending only a text message by way of explanation and leaving him to re-evaluate their relationship. He discovers she has embarked on an epic odyssey, crossing and recrossing Russia and delving deep into Soviet history on a quest to unravel a family mystery of which he was unaware – one in which Josef Stalin himself may be involved.
Jonathan Spector's play is at once a love story and a kaleidoscopic primer in psychology, history, and the use and abuse of power. Spector's other plays include Eureka Day (Old Vic) which won several awards and was also nominated for a New York Drama Critics Award. This Much I Know is his most recent play and won the 2023 Glickman Award and also the Bay Area Theater Critics Circle Award for Best New Play.
Esh Alladi plays Lukesh. His recent credits include The P Word (Bush Theatre); Hobson's Choice - winner of the UK Theatre Award for Best Supporting Performance (Royal Exchange Manchester) and Nell Gwynn (Shakespeare's Globe).
Oscar Adams plays Harold. Oscar made his professional theatre debut in My Brother's Keeper at Theatre 503 earlier this year for which he was nominated for an Off West End Best Newcomer award.
Natalie Klamar plays Natalya. Her recent theatre credits include Nora: A Doll's House (Young Vic); Wilderness (Hampstead Theatre) and Othello (Shakespeare's Globe).
Chelsea Walker returns to Hampstead to direct following her acclaimed Hampstead Downstairs production of Yous Two. Her recent work includes On the Beach (Sheffield): Missing Julie (Theatr Clwyd); Hedda Gabler (Sherman); Cougar (Orange Tree) and A Streetcar Named Desire (ETT).
Design will be by Blythe Brett with lighting design by Bethany Gupwell, sound design by Holly Khan, video design by Duncan McLean, movement by Michela Meazza, dialect by Gurkiran Kaur, magic consultancy by Scott Penrose and associate video design by Stanley-Orwin Fraser.