NINETEEN GARDENS CASTING ANNOUNCED
Posted on 28 September 2023.
Posted in: Announcements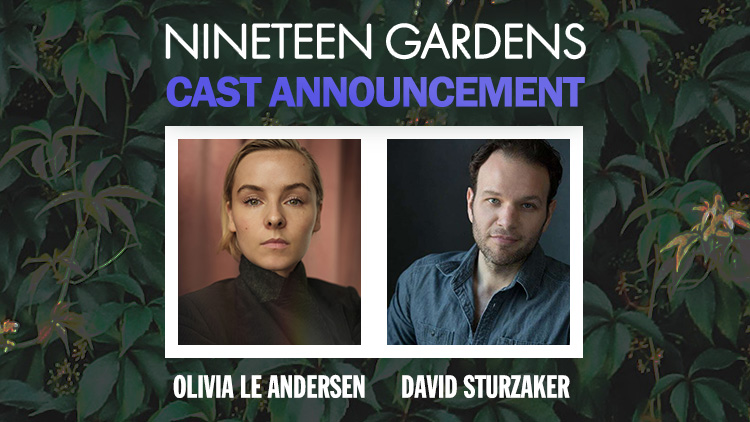 MAGDALENA MIECZNICKA MAKES PLAYWRITING DEBUT AT HAMPSTEAD THEATRE WITH NINETEEN GARDENS FEATURING OLIVIA LE ANDERSEN AND DAVID STURZAKER FROM 3 NOVEMBER TO 9 DECEMBER 2023
Magdalena Miecznicka is set to make her playwriting debut at Hampstead Theatre with Nineteen Gardens, an intimate two-hander directed by Alice Hamilton and starring Olivia Le Andersen and David Sturzaker. Nineteen Gardens has its world premiere in the theatre's Downstairs space from 3 November to 9 December 2023.
Enigmatic and explosive, Nineteen Gardens, delves into the complex lives of two lovers entangled by an extramarital affair.
"When I got your email my heart went out to you. All of a sudden it dawned on me how I had missed you – how I had missed what we'd had."
Nearly two years after the end of their affair, John and Aga meet once more. Each has filled the void left by the other: he has withdrawn into his world of wealth and privilege; she has found herself working as a chambermaid to support her family. Both recognise that the spark between them is still there. Will they rekindle what they had, or is an altogether darker game about to be played out?
Polish writer Magdalena Miecznicka's lyrical and human comedy is by turns seductive, enigmatic and explosive. Known for her accomplished novels in Polish, Miecznicka, also a journalist and literary critic, is now based in London and Nineteen Gardens marks her theatre debut.
Olivia Le Andersen plays Aga. Her recent theatre credits include Relatively Speaking (Theatre Royal Bath); Bad Jews (Arts, West End) and Book of Dust - La Belle Sauvage (Bridge Theatre).
Playing John is David Sturzaker whose theatre credits encompass To Kill a Mockingbird (West End); Timon of Athens (RSC) and Frost / Nixon (Sheffield Crucible). His television work includes Endeavour; Father Brown and Doctors.
Alice Hamilton is the Associate Director at Hampstead Theatre. Her previous work at Hampstead includes the successful Downstairs productions of Every Day I Make Greatness Happen and Paradise, as well as main stage productions of The Dumb Waiter and The Memory of Water.
Design will be by Sarah Beaton with lighting design by Jamie Platt and sound design by Max Pappenheim.
Tickets for Nineteen Gardens are available from £10 and are on sale now.