FULL CAST ANNOUNCED FOR EITHER
Posted on 3 September 2019.
Posted in: Announcements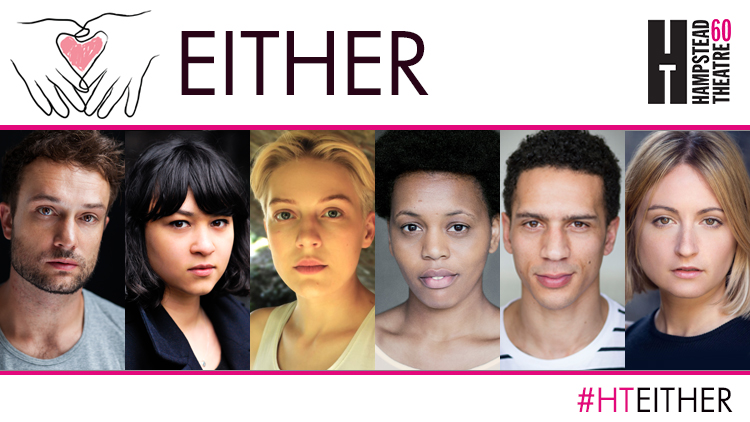 HAMPSTEAD DOWNSTAIRS / CELIA ATKIN PRESENT THE WORLD PREMIERE OF
EITHER
By Ruby Thomas
Directed by Guy Jones
Designed by Bethany Wells 
Lighting by Jamie Platt 
Sound by Jon McLeod
Movement by Rachael Nanyonjo
19 September – 26 October
Press Night 2 October 7pm
'I can feel myself changing. In a way I haven't done since, adolescence maybe. But the catalyst is you instead of overactive glands'
Funny, playful and intimate, Hampstead Theatre today announces the casting for the world premiere of Ruby Thomas' first full-length play that probes our romantic choices in life and explores the human need to connect and be loved - regardless of the ramifications or gender... Joining the cast will be Gabriel Akuwudike, Patrick Knowles, Isabella Laughland, Bianca Stephens, Lizzy Watts and Tilda Wickham.
A young, loved-up couple are surrounded by life's infinite possibilities and temptations. And at a time in their lives where they have little responsibility, they're determined to live this chapter as fully and spontaneously as possible. But in their pursuit to enjoy all that life has to offer, should every opportunity that comes their way be taken?
Ruby Thomas has had short plays performed at the Old Red Lion, Platform Southwark, the White Bear and Theatre503. She was on the Soho Writers Lab course (2016-17) and the Royal Court Supergroup (2018-19). Her web series Settling was released in March 2019. 
Guy Jones trained at the University of Manchester and on the National Theatre Directors Course. His directing work includes Out of Water and Mayfly (both Orange Tree); Busking It (HighTide/Shoreditch Town Hall); Disnatured (Shakespeare in Shoreditch Festival) and Spokesong (Finborough). As Staff Director at the National Theatre he directed Saint George and the Dragon; and as Assistant Director at the RSC he assisted on Cymbeline and Always Orange. Guy is Literary Associate at the Orange Tree and has been an Associate Artist at Company Three. Dramaturgy work elsewhere includes There There, Stranger (Sadler's Wells) and The Armour (Langham Hotel). He was shortlisted for the JMK Award in 2016.
Gabriel Akuwudike's theatre work includes Time is Love (Finborough); Dealing with Clair (Orange Tree); A Gym Thing (Small Things Theatre); No One is an Island (Tangle); Mary Barnes; The Caucasian Chalk Circle and Love and Information (all Drama Centre) and Troilus and Cressida (Sam Wanamaker Festival). His film work includes 1917. His television work includes Berlin Station (Season III); Brexit: The Uncivil War; The Bisexual; Informer and Cursed.
Patrick Knowles's theatre work includes One For the Road (Frinton Summer Theatre/Jermyn St); Imperium (Gielgud/RSC); A Streetcar Named Desire (ETT/Theatr Clwyd/NST); The Seven Acts of Mercy; The Rover and The Two Noble Kinsmen (all RSC); Look Back In Anger (Derby Theatre); A Streetcar Named Desire (Leicester Curve); Saturday Night, Sunday Morning and The Grapes of Wrath (both Mercury Theatre, Colchester); Taking Steps (Old Laundry Theatre, Bowness); In Quest of Conscience and The Northerners (both Finborough); Gates of Gold (Library Theatre, Manchester); Paradise Regained (Royal Court) and Troilus and Cressida (RSC). His film work includes The Rizen; Deny Everything and Pelican Blood. His short film work includes Liars and Desires and Heart of the City. His television work includes Call the Midwife; Doctors; Casualty; Murder on the Home Front; Holby City; New Tricks; Apparitions; Mutual Friends and Lewis.
Isabella Laughland's theatre work includes Cock (Chichester Festival Theatre); BU21 (Trafalgar Studios/Kuleshov); A Further Education (Hampstead Downstairs); Pride and Prejudice (Sheffield Crucible); King Lear (Chichester Festival Theatre); The Same Deep Water As Me (Donmar); Hard Feelings (Finborough); The Last of the Haussmans and Greenland (both National Theatre) and Wanderlust (Royal Court). Her film work includes Slaughterhouse Rulez; Chubby Funny; Urban Hymn; Now Is Good; Harry Potter and the Deathly Hallows Part 2 and Harry Potter and the Half Blood Prince. Her television work includes Dark Crystal: Age of Resistance; Trigonometry; Criminal; Barking Murders; Chimerica; Coaches; Lewis; In Deep; Coming Up: Henry; Black Mirror: Fifteen Million Merits; The Hollow Crown: Richard II; Without You and The Inbetweeners.
Bianca Stephens's theatre work includes soft animals (Soho); The Burning Tower (Bush); Julius Caesar and Midsummer Night's Dream (both Storyhouse Theatre, Chester); E15 (Lung Theatre company, Battersea Arts Centre); The Great Austerity Debate (Menagerie Theatre); Always Orange (RSC); Blue; The Rover Adapted By Rob Hayes; Narrative; Macbeth; In Arabia We'd All Be Kings and Dogville (all Richard Burton Theatre Company) and Dames (Siberian Lights theatre company at the Pleasance).
Lizzy Watts's theatre work includes Dealing With Clair (Orange Tree); Hedda Gabler (National Theatre tour); Strife (Chichester Festival Theatre); The Angry Brigade (Paines Plough, Bush); Merit (Theatre Royal, Plymouth); A Midsummer Night's Dream (Shakespeare's Globe world tour); Blink (Soho/NY); Twelfth Night (Filter Theatre tour); Wasted (Paines Plough, UK tour); The Man (Finborough); Dr Faustus (Walford Palace); Artefacts (Nabokov/Bush) and The Grizzled Skipper (Southampton Nuffield). Her short film work includes Grapes; The Best Man; One in the Dark; Will Sampson... and the Self-Perpetuating Cycle of Unintended Abstinence; Sprawlers and Footsteps. Her television work includes Endevour, The Durrells, Midsomer Murders and Doctors. Her radio work includes Homefront.
Tilda Wickham's theatre work includes Out of Water (Orange Tree) and A Queer Anthology of Dating (Southwark Playhouse). Their theatre work whilst studying includes Romeo and Juliet (Cambridge Arts); Six (2017 Edinburgh Fringe, Sweet Venues) and Boys Will Be Boys (as Director, ADC Theatre, Cambridge). Their writing work includes Anon is a Woman (Southwark Playhouse).  Their television work includes Doctors.
Either runs Downstairs from 19 Sep - 26 Oct
KEEPING YOU SAFE AT HAMPSTEAD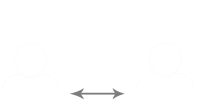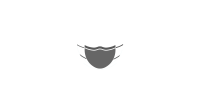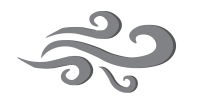 STATE OF THE ART VENTILATION