HAM & HIGH INTERVIEWS ROXANA SILBERT
Posted on 7 December 2020.
Posted in: Interviews with cast and creatives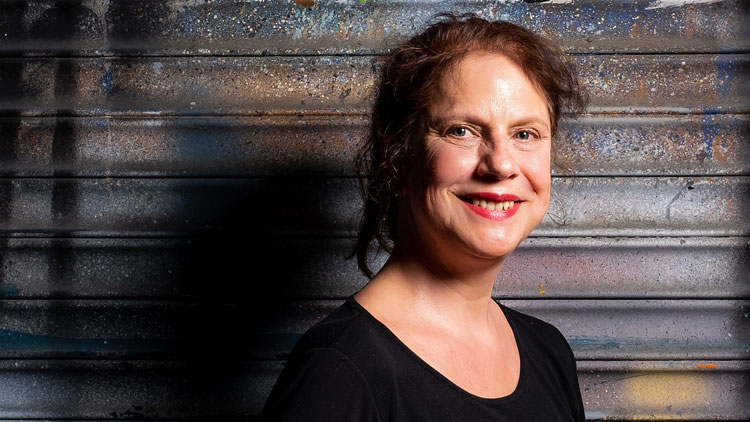 Photo by Kris Askey
'I was in tears when I saw the first run through'
BRIDGET GALTON | HAM & HIGH
'Roxana Silbert admits watching the first post-lockdown run through of a play at Hampstead Theatre left her in tears.
"I really miss it. I really miss sitting in an audience and the communal experience of watching a play, feeling the energy in a group of people who have shared something," she says.
"But it's odd not be able to sit in the bar and talk about it afterwards."
Silbert had just kicked off her debut season as artistic director when the pandemic hit. There was acclaimed opener The Haystack, then a scheduled run of vintage plays to mark the theatre's 60th anniversary. 
But the curtain came down just before tech rehearsals of Harold Pinter's The Dumb Waiter.
"The set has been there ever since and although I loved the play when I chose it, I thought 'let's make sure we want to reopen with it'" she says of two hander about bantering hitmen awaiting instructions for their next target.
"Re-reading it, it's an extraordinary piece of writing, a 55 minute mix of music hall, naturalism and thriller. Two men sat in a room waiting for instructions on what to do makes new sense in a pandemic. Great writing reinvents itself in whatever situation you are in and it's much funnier now because of our situation."
The play was among the first staged by James Roose-Evans' Hampstead Theatre Club which moved from Holly Bush Vale, to Swiss Cottage and now Eton Avenue.
When she first moved to London in the 1990s, Silbert lived in Belsize Park and worked as a script reader under artistic director Jenny Topper.
"Hampstead was my local theatre and I saw everything. I remember Maureen Lipman's very funny performance in Peggy For You and an early play by Rona Munro, such a range of plays from mainstream to odd. It was an extraordinary training"...'
To read the full interview visit Ham & High online here.
The Dumb Waiter now plays on the Main Stage from 18 - 30 January 2021.