THE DUMB WAITER: ★★★★ FROM BROADWAY WORLD
Posted on 10 December 2020.
Posted in: Theatre Reviews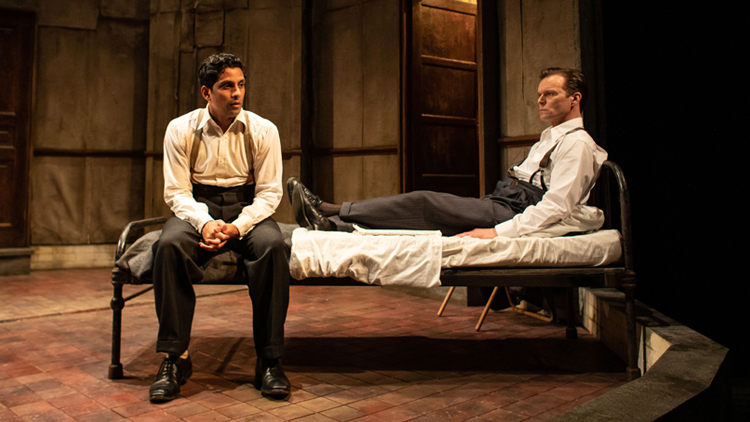 BWW Review: THE DUMB WAITER, Hampstead Theatre
Cindy Marcolina | Broadway World
'Hampstead Theatre are reopening their doors after an exceptionally difficult year with their long-delayed production of Harold Pinter's The Dumb Waiter.'
'Pinter's one-act two-hander was the piece that cemented the playwright in the 20th century dramatic panorama. When it premiered at Hampstead Theatre in their first home at Moreland Hall, it was directed by the theatre's founder and Artistic Director James Roose-Evans and accompanied by The Room, but Hamilton chooses to leave it standing on its own feet and does so to a complete success.'
'The story develops into a thrilling mystery that takes delight in the absurdity of its situation and revels in the dense pressure of Pinter's script.'
'By tuning his signature pauses meticulously, Hamilton hands her actors a chance to speak with their eyes and body language, creating a chilling unspoken dialogue that becomes significantly more poignant than any chit-chat the two hit-men exchange. From squabbling over figures of speech to betraying their characters' nervousness, Newman and Zaza are hypnotising as they hook their crowd from the get-go. Even when they find the stillness of the pauses, the tension between them is crisp and buzzing.'
'Designer James Perkins transforms the building's traditional proscenium into a thrust stage, allowing the patrons to become curious onlookers instead of passive viewers.'
To read the full review visit Broadway World online here.
The Dumb Waiter now plays on the Main Stage from 18 - 30 January 2021.