THE DUMB WAITER: ★★★★ FROM THE TELEGRAPH
Posted on 10 December 2020.
Posted in: Theatre Reviews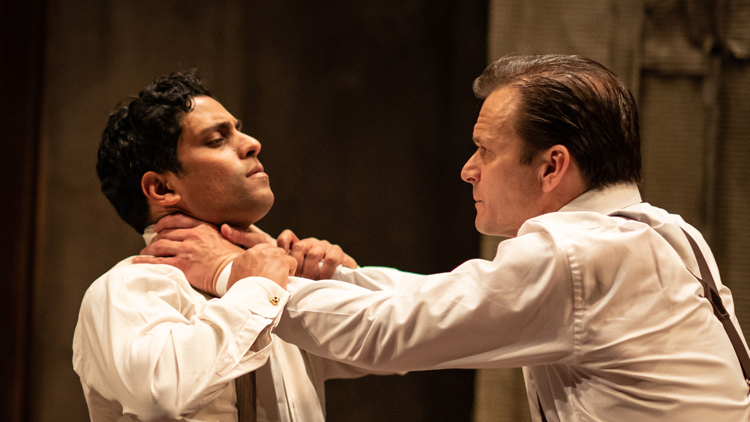 The Dumb Waiter, Hampstead Theatre, review: like Waiting for Godot, with guns
Claire Allfree  | the telegraph
'You can almost smell the damp rising off the stained brown walls in this 60th-anniversary production of Harold Pinter's early absurdist thriller, rescheduled (for the familiar reasons) from March. The Dumb Waiter is one of his more accessible shorts, a mix of Beckett and Martin McDonagh in which two hitmen in the basement of an unnamed building wait for instructions for their next job, like Waiting for Godot with guns.'
'The initially unnerving thing about Alice Hamilton's horribly atmospheric production, however, is how little Alec Newman and Shane Zaza look like hitman. Newman's Ben reclines on the bed reading the paper, the picture of Sunday afternoon leisure. Zaza's younger, more wholesome-looking Gus keeps tying and retying his laces, like a slightly gormless school boy.'
'Yet it's in such everyday banalities that Pinter's two-hander, enabled by Hamilton's furtive detailing, accretes its inscrutable violence. The sound of a lavatory that won't properly flush jangles the nerves. An open door, through which who-knows-what might enter, gnaws at the mind. When a dumb waiter comes crashing down into the pair's oddly prison-like cell, it does so with the force of a medieval instrument of torture...'
To read the full review visit The Telegraph online here.
The Dumb Waiter now plays on the Main Stage from 18 - 30 January 2021.