WHO WAS ALFRED FAGON? BY ROY WILLIAMS
Posted on 29 April 2021.
Posted in: Main Stage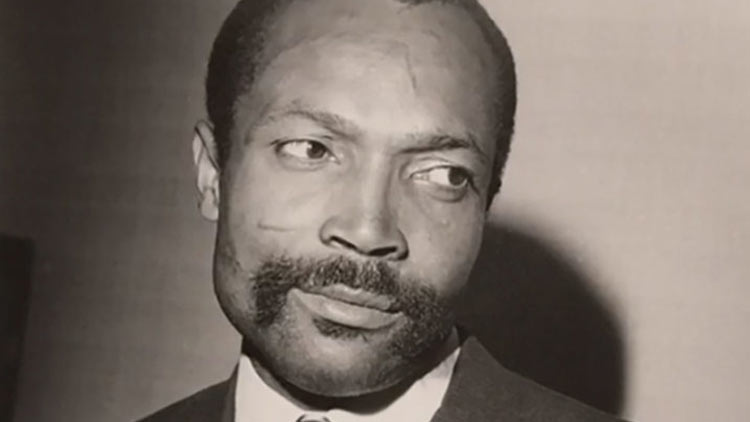 Alfred Fagon was born in Clarendon, Jamaica, into a family of eight brothers and two sisters. In 1955 he came to England to join his family and to work for British Rail in Nottingham. In 1958 he joined the British Army (The Royal Corps of Signals) where he became their Middleweight Boxing Champion in 1962. He then left the army and went to live in Bristol, becoming an actor. His first professional job was at the Bristol Arts Centre, in the Henry Livings play The Little Mrs Foster Show. In 1970, he came to London and appeared in the play Black Pieces written by Mustapha Matura which was presented at the ICA (Institute of Contemporary Arts). Fagon himself then started to write his own plays which include 11 Josephine House, Four Hundred Pounds and The Death of a Black Man. As well as writing, he took on many more acting roles across television, film, radio, and theatre. 
In August 1986, Fagon suffered a fatal heart attack while jogging near his home. In spite of the police searching his flat and finding several opened letters addressed to him (including a number from his literary agent) they claimed that they could not find any contacts for him. As a result he was given a pauper's funeral.
It was only when after he failed to attend a meeting with the BBC and his agent Harriet Cruickshank went looking for him that his friends and family found out what had happened to him. 
A memorial evening was held at the Tricycle Theatre (now renamed the Kiln) to honour his life and work. The donations collected at the memorial formed the basis of the Alfred Fagon Award to recognise, at the time, Black British playwrights from the Caribbean.
In 1997, I was very surprised as well as delighted to receive a phone call telling me that I was to be the first recipient of the award for my second play Starstruck - which was performed at the Tricycle the following year. To my everlasting shame, I did not know of Alfred Fagon at the time, but I went out and bought two of his plays a few weeks before the awards ceremony.
When Alfred arrived in England in the 50s, the country, whether it liked it or not, was going through great change - arguably the biggest cultural change of its entire existence.  Britain was still counting the cost of the second world war and it was losing its empire. Alfred and his generation of West Indians arriving in the UK, were made to feel unwelcome by the dominant white population.
This was very much the world of Fagon's plays. He captured the voices of Black Britain from those volatile times. Voices that were angry, confused, dissipated and isolated, but beyond that, just Black people struggling as well striving to understand what it means to live their lives in this country.  These are all issues and themes that of course have relevance today. By the time I won the award, I had only written two plays, The No Boys Cricket Club and Starstruck. Both pieces addressed the long-term disruption of emigration for my parents' generation who moved from the West  Indies to the UK. Once I had finished reading Alfred's work, I felt I was ready to write about myself and my generation. Alfred's plays gave me permission to do that, to explore what it meant for me to be Black as well as British, and that Black Lives should, of course, always matter.
I am proud to see how Alfred Fagon's fine body of work has enabled him to be recognised as one of our most notable Black British playwrights.
Roy Williams is one of the UK's leading dramatists. His plays include The Firm, Wildfire (Hampstead Theatre), Sucker Punch (Royal Court) and Death of England and Sing Yer Heart Out For The Lads (National Theatre). In 2020, his play Death of England: Delroy reopened the National Theatre and he received both a BAFTA Nomination (Best Short Form Drama) and an RTS nomination (Best Writer, Drama) for his contribution to BBC4's Soon Gone, A Windrush Chronicle.
The Death of a Black Man runs on the Main Stage from 28 May - 10 July