PEGGY FOR YOU: ★★★★ FROM WHATSONSTAGE
Posted on 22 December 2021.
Posted in: Theatre Reviews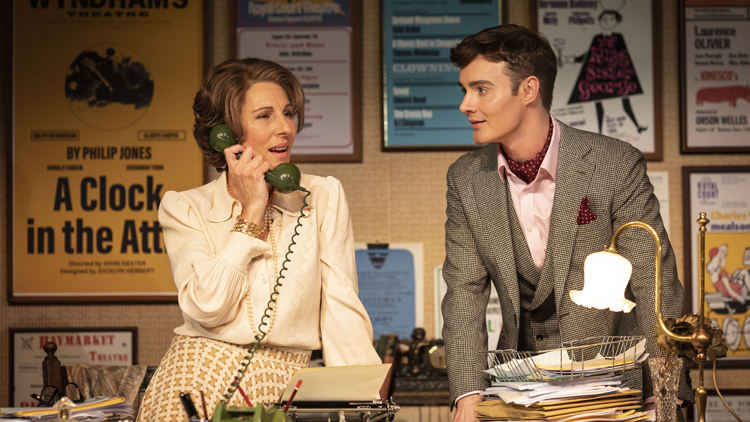 Peggy for You review – Tamsin Greig leads a pitch perfect revival
ALUN HOOD, WHATSONSTAGE
'They say lightning never strikes twice, but it feels as though it has up at Hampstead Theatre where Maureen Lipman gave a career highlight performance as formidable literary agent Peggy Ramsay (1908 to 1991) in the original 1999 production of Alan Plater's richly enjoyable comedy, and now Tamsin Greig is equally magnificent, albeit intriguingly different, in the same role in Richard Wilson's pitch perfect revival.'
'Both interpretations serve Plater's engrossing script equally well. First discovered asleep fully dressed on a script-festooned chaise longue as early morning light creeps into her office (James Cotterill's marvellously detailed set is almost a character in itself) after spending a night at the police station bailing out a client, she is eccentric but magnetic: Plater has created a fabulous role. Where Lipman led with abrasive energy shading later into fractious vulnerability, Greig comes at Ramsay from the opposite direction, projecting an almost child-like delight at her power within the industry, specifically over the careers of men, and a genuine love for words and writers.' 
'Greig's Peggy is flirtatious with Josh Finan's fledgling playwright and has a flinty camaraderie with her comparatively down-to-earth secretary (Danusia Samual, excellent).'
'a superb Trevor Fox'
'Writing this witty and generous never really goes out of fashion. Already a much beloved actress, and surely only a BAFTA or two away from full National Treasure status, Tamsin Greig proves once again what a tremendous stage performer she is, a brilliant technician with truth, precision and killer comic timing. We may be within staggering distance of 2022, but this is one of the performances of the year.'
To read the full review visit WhatsOnStage online here.
Peggy For You now plays on the Main Stage until 29 January.