THE MEMORY OF WATER: ★★★★★ FROM BRITISH THEATRE
Posted on 10 September 2021.
Posted in: Theatre Reviews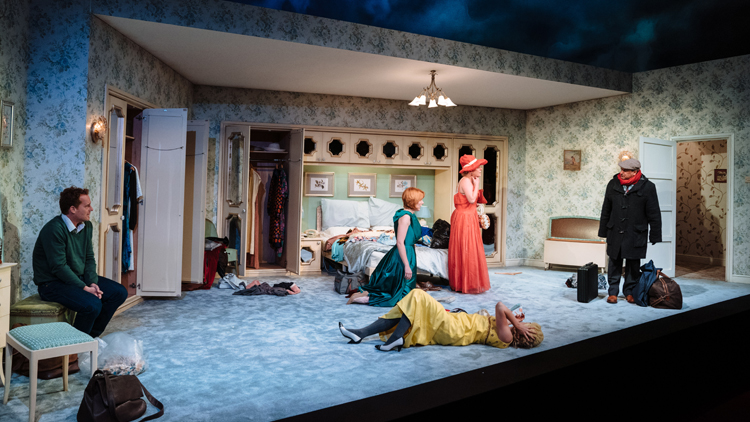 REVIEW: The Memory Of Water, Hampstead Theatre
LIBBY PURVES, BRITISH THEATRE

'This portrait of three bickering sisters, trading memories and revelations in the days before a mother's funeral in a snowy Yorkshire winter, was a Hampstead discovery 25 years ago:  a debut by Shelagh Stephenson, herself one of five sisters.  Seized by the theatre and finessed to perfection by Terry Johnson it won an Olivier, went to the West End and the US.  It hasn't faded.'
'The cast is faultless: Lucy Black is nervy, organizing Teresa, married to stolid Yorkshire Frank;  Laura Rogers is Mary, the sardonic clever nerve specialist having a long affair with a married TV doctor; Carolina Main is the youngest, Catherine, ricocheting helplessly, hysterically and hypochondriacally between faithless boyfriends.'
'When Mike-the-married-boyfriend arrives,  frozen and grumpy from a long unheated train, the chemistry changes. Adam James is perfect in his doctorly detachment and already visible unreliability about commitment to Mary.'   
'When Kulvinder Ghir's Frank appears,  to find the women gone hysterical trying on their dead mother's awful cocktail gowns,  he gets one of the finest comedy entrance-speeches of any year'
'It's all splendid,  including the wickedly specific place-and-period designs by Anna Reid (oh, posh Yorkshire! O, the bedspread and the mirrored wardrobes!).  It all serves Stephenson's beautiful writing with laser precision.  It's on until the 16th of October, and after the 27th of this month will no longer be 'distanced'.  Actually, I am tempted to go again,  just to feel a more solidly packed audience laughing and gasping around me. That's how much fun it was.'
To read the full review visit British Theatre online here.
The Memory of Water now plays on the Main Stage until 16 October.