THE ANIMAL KINGDOM: REVIEWS ROUND-UP
Posted on 4 March 2022.
Posted in: Hampstead Downstairs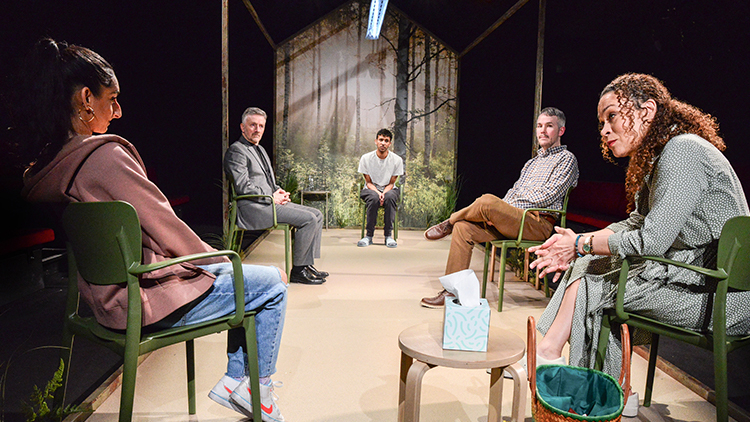 ★★★★ 'Fast, furious drama with note-perfect performances' The Times
★★★★ 'A thrilling portrait of a family in collapse. A coiled-spring production... Pure theatre.' The Guardian
★★★★ 'Thoughtful family drama anchored by an excellent cast' The Stage

★★★★ 'A sharp production. Funny, humane and very rewarding.' WhatsOnStage
Offie Nomination, Lead Performance, Ragevan Vasan (Sam)
---
★★★★
THE ANIMAL KINGDOM, review — thrilling portrait of a family in collapse
Claire Armitstead, THE GUARDIAN
'The symbolism of the title is lightly touched on with fleeting mentions of bonobos and swifts (Sam is a zoology student). Is this a therapy room or a human zoo, with invisible spectators? It certainly makes you question what theatre is. There's no plot to speak of, and I was astonished to see a fight director credited: it's just words. But in Lucy Morrison's coiled-spring production, it is also so much more. The fizz of the electric lighting as the scenes shift in time; the reconfiguration of the characters between sessions, so that you never see all their points of view face on at the same time; the slow reveal of something you should have worked out but somehow didn't – that's pure theatre.'
★★★★ 
THE ANIMAL KINGDOM review — Fast, furious family drama
CLIVE DAVIS, THE TIMES
'It's only some 80 minutes long, yet Ruby Thomas's absorbing facsimile of a family therapy session resembles one of those undulating courtroom dramas where personalities shift in and out of focus under cross-examination. The performances have a note-perfect, fly-on-the wall quality; Lucy Morrison's direction is always sure-footed. All of the snap judgments we are tempted to make at the outset have to be recalibrated again and again.
...
Thomas — whose first full-length play, Either, won acclaim in this same space in 2019 — is a nimble writer who smuggles in shards of wry humour. Assembled in the designer Naomi Dawson's stark, greenhouse-like enclosure, the actors are surrounded by the audience on three sides. We press in on them, eavesdropping on their confessions.'
★★★★ 
The Animal Kingdom review – Thoughtful family drama
Julia Rank, THE STAGE
'The excellent cast convey the chemistry of a family with all of its conflicting emotions and messiness.
...
Thomas (the daughter of a therapist) creates believable characters, and her writing is consistently pithy and imbued with warmth. Lucy Morrison directs this intimate piece with a light touch and without the need for constant shouting to convey strong emotions.
This is a thoughtful family drama that demonstrates the importance of active listening. Though the ending doesn't provide the neat resolution that Tim hopes for in the first session, everyone – for now at least – is in a more hopeful place than at the beginning for having come together in this way.'
★★★★
THE ANIMAL KINGDOM at Hampstead Theatre – review
Daniel Shailer, WhatsOnStage
'In this way, Thomas has artfully constructed a play which doesn't run on b-plots, secrets or hidden revelations. There's no inspector needed, just an understanding therapist, Daniel, played by Paul Keating with more warmth than your favourite Blue Peter host. What emerges is what Daniel would describe as 'the family system', but what feels more like a family organism: the hidden mesh of emotions, agendas and pasts which define each relationship, often unbeknownst to the very members of that system.
...
It soon emerges that one hotseat, upstage, is where characters seem to strike an emotional vein. It's not just easy formalism from director Lucy Morrison, it's a thoughtful trick which focusses both cast and audience attention throughout. It's so simply effective it even makes the dead space between scenes exciting, because it suggests which character's breakthrough is next up to bat.'
The Animal Kingdom now plays Downstairs until 2 April.