A CUP OF TEA WITH EWAN MILLER
Posted on 29 September 2023.
Posted in: Interviews with cast and creatives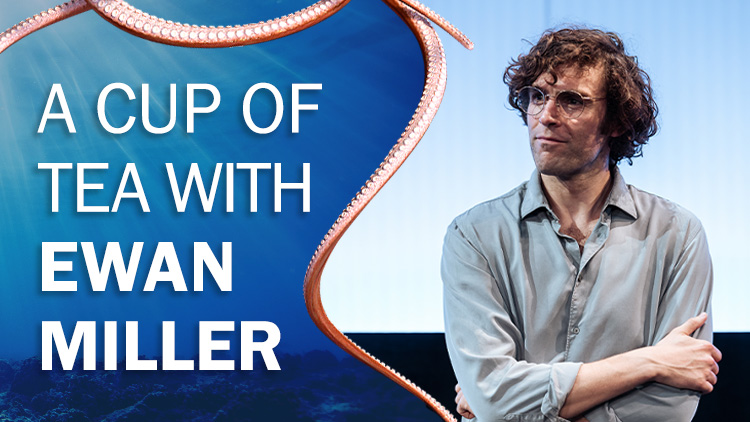 We caught up with actor Ewan Miller to talk his acting highlights, pre-show rituals, and Octopolis, which runs Downstairs until 28 October.
What first attracted you to Octopolis?
Without being too blunt - it's brilliance. Probably slightly before that I was hopeful that I might get to act with an octopus. Only if the Octopus wanted to, of course.
Tell us a little more about your character Harry.
Whereas people are considerate, Harry must learn to be.
Whereas people are self aware, Harry must learn to be.
Whereas people are attentive, Harry must learn to be.
Whereas people are flawed, so is Harry.
Without giving too much away, what's your favourite line from the show?
"I wrote my PHD on the coastal foraging communities of Celtic Brittany"
I think it is the line in the play that is least likely to come out of Ewan Miller's mouth. Therefore, considering not giving much away, it is my favourite.
Do you have any pre-show rituals?
Only eating bananas and acting silly with Redgrave.
What play have you seen recently that you've really enjoyed? And why?
The Effect at the National Theatre. I loved it's simplicity spliced with it's raw power. I think Michele Austin is absolutely tremendous - so fresh feeling. And it's about love. I'm a real sucker for love.
What has been your highlight as an actor so far?
It seems to always be the people. The work is the target every time but it's always the experience shared and the wonderful friends that you come away with. I just need to be a lot better at being in touch with them.
If it had to be acting related it would probably be stepping out of drama school and into the Citizens Theatre to play both the Antipholus twins in Shakespeare's Comedy of Errors.
What would your dream role be?
That is the question…
I generally find that such a difficult one! The joy of acting for me is variety. I find it hard to choose drama over comedy or vice versa, for example. My dream would really be to do many many different roles all very different from one another.
BUT…if I had to choose at the moment, it would be Hamlet, I feel ready to have a real run at that.
Where's your favourite place in London?
At the moment it's Three Sheets in Dalston for a martini or the Haggerston Canal with a beer.
And finally, what's the best advice you've ever been given?
To golf when you golf
and drink when you drink