FULL CAST ANNOUNCED FOR TOM STOPPARD'S ROCK 'N' ROLL, DIRECTED BY NINA RAINE AT HAMPSTEAD THEATRE
Posted on 30 October 2023.
Posted in: Main Stage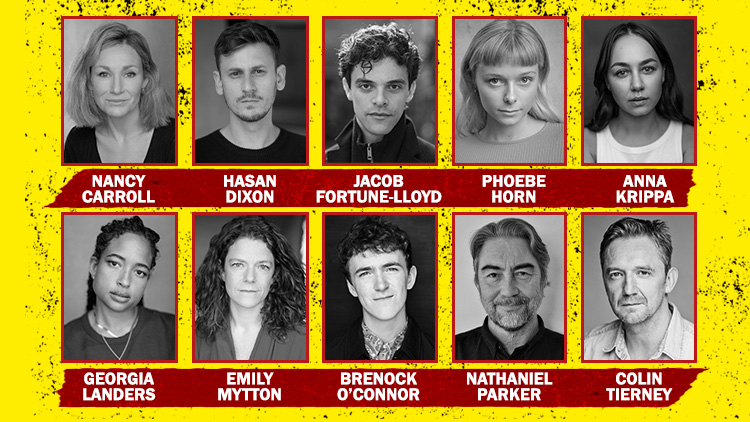 Hampstead Theatre has today announced the full cast for Tom Stoppard's Rock 'n' Roll. Hailed by the New York Times as "triumphant" and "arguably Stoppard's finest play" Rock 'n' Roll is a compelling tale set against the backdrop of 1968. Directed by Nina Raine Stoppard's play spans 21 years in the lives of three generations. It opens on 6 December and runs until 27 January 2024.
Nancy Carroll (Olivier and Evening Standard Award Best Actress winner for After The Dance) plays Eleanor, Jacob Fortune-Lloyd (The Queen's Gambit; Midas Man) plays Jan and Nathaniel Parker (The Inspector Lynley Mysteries; Wolf Hall - Olivier Award for Best Actor in a Supporting Role) plays Max.
Joining them are Hasan Dixon as Ferdinand, Phoebe Horn as Young Esme / Alice, Anna Krippa as Lenka, Georgia Landers as Gillian / Magda, Emily Mytton as Candida, Brenock O'Connor as The Piper and Colin Tierney as Milan.
"If I was English I wouldn't care if Communism in Czechoslovakia reformed itself into a pile of pig shit. To be English would be my luck."
1968: Russian tanks have rolled into Czechoslovakia, and Syd Barrett has been dumped by Pink Floyd. Jan, a visiting postgrad at Cambridge, breaks with his old professor Max, a Marxist philosopher, and heads home to Prague with his suitcase full of "socially negative music". Rock 'n' Roll covers the ensuing 21 years in the lives of three generations of Max's family while Jan is caught in the spiral of dissidence in a Communist police state. But it's a love story too - and then there's the music…
Tom Stoppard returns to Hampstead after the triumphant revival of Hapgood in 2015. Winner of eight Evening Standard Awards, three Olivier Awards and five Tonys, Stoppard's plays include Leopoldstadt; Rosencrantz and Guildenstern are Dead and Arcadia.
Director Nina Raine also returns to Hampstead where her directing credits include her own play Tiger Country (2011 & 2014) and William Boyd's Longing (2013).
Nina Raine is joined by designer Anna Reid; lighting designer, Peter Mumford; sound designer Tingying Dong; Director of Movement, Jane Gibson and Dialect Hazel Holder. Casting is by Amy Ball and Joanna Woznicka is assistant director.
The production is kindly supported by Ken and Lin Craig and also Melanie Johnson.
Rock 'n' Roll opens on Wednesday 6 December and runs until Saturday 27 January.