Thousands tune in for live-streaming of #aiww
Posted on 20 April 2013.
Posted in: Announcements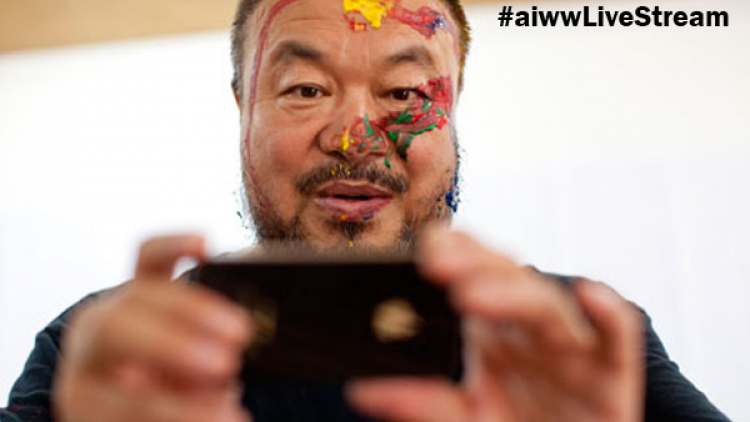 Thousands of people tuned in across 84 countries from Friday 19 April to watch the live and free streaming of the critically acclaimed #aiww: The Arrest of Ai Weiwei.
Hampstead Theatre, Larry Warsh, FriendsofAiWeiwei.com and The Lisson Gallery are delighted that they were able to bring Howard Brenton's extraordinary story to so many people. The ultimate highlight of the night was Ai Weiwei being online. He watched the entire show and got involved in the twitter conversation #aiwwLiveStream.
Thank you to the cast and creative team who made Friday possible.
There was plenty of conversation and interaction throughout the live-streaming via #aiwwLiveStream – including the following comments below:
Come on world … Lets listen #aiwwLiveStream @LRiseborough
Hamps_Theatre Tuning in here from Dublin with robbiefreeze and looking forward to it – break a leg!! #aiwwLiveStream @nicolematthews1
Right, who's ready for this #aiwwLiveStream then? Popcorn at the ready…@nickhernbooks
#aiwwLiveStream crystal clear transmission on my iPad – this is incredibly cool @jrfrank
Just sitting down to watch #aiwwlivestream by Hamps_Theatre in hull! Amazing! @joshuabeaumont92
Live stream of The Arrest of Ai Weiwei – #aiwwLiveStream was going to watch it later but already gripped Hamps_Theatre @estherrichardson
Ashley Martin Davis' design is rather lovely. Want a few more wide shots #aiwwlivestream @dan_hutton
Hamps_Theatre #aiwwLiveStream loving the close-ups and being able to hear the audience. Thrilling theatre @susiebensn
The guard on the left is cute! #aiwwlivestream @theodorebass
Loving the live stream of Hamps_Theatre 'The Arrest of Ai Weiwei'…wish more theatres did this, particularly the sellouts! #aiwwlivestream @indiaemartin
Watching #aiwwLiveStream Hamps_Theatre in Scotland! Thank you for bringing this to me since I can't be there in the flesh. BEAsianArtists @chrispchung
really enjoying watching #aiwwLiveStream this evening. Strong piece. @fade2dust
TOTES EXCITING watching #aiwwlivestream – Hamps_Theatre – IMPRESSED that I have this opportunity… Thank you! @missdumenzweni
Hamps_Theatre Watching Ai Weiwei play live streaming, coming in loud and clear, Canada. Fantastic! It's really well done. #aiwwLiveStream @sonjaKR
Hamps_Theatre #aiwwlivestream Is great, the best thing I have seen in a long time! #aiww @HCharlottelin
Hello to aiww who is watching #aiwwLiveStream from China – so glad you are able to be part of this and hope you're enjoying the show @hamps_theatre
Yes."Hamps_Theatre: Hello to aiww who is watching #aiwwLiveStream from China – so glad you are able to be part of this" @aiww
Watching #aiwwLiveStream from my own room! Thrilling stuff, faultless cast. @adambeastie
#aiwwLiveStream works amazingly well, both technically & theatrically. Good performances all round, Benedict Wong utterly convincing. @dazzaross
Nothing breaks the spirit like a fracture too. #aiwwlivestream @thePhina
#aiwwLiveStream interval. See you in the bar? (My kitchen) @unklerupert
watching #aiwwlivestream tonight Hamps_Theatre!Camera director conducting coverage so well!Performances even better up close. WATCH IT NOW @LFaberes
Interval. Hamps_Theatre is tweeting some great insights about the script & story. We're watching #aiwwLiveStream @WhatsOnStage
Interval! Quick, get to the bar. #itsactuallymyfridge #aiwwlivestream @davidmcgroararty
The #aiwwLiveStream is fantastic. Interval with a cup of tea. Can everyone do this now so I don't have to leave the house? @Brad_Birch
Just been told they are watching in China. Nice one. #aiwwlivestream Hamps_Theatre @croakatoa
#aiwwLiveStream Act 2 aiww Hamps_Theatre streaming now hampsteadtheatre.com/news/2013/04/w… #aiweiwei #Humanrights #china Watching in San Francisco @tigerbeat
剧本变成现实还是挺神奇的 aiww #aiwwLiveStream @jenwyng
On my live blog of #aiwwlivestream I'm musing on quite what kind of experience this is – and how significant @Illuminations
#aiwwlivestream might sound funny that the guards are YELLING with deadpan faces, but it actually imitates real-life chinese authoritarians @sumtzenbumtzen
Not banned in China? I'm surprised #aiwwlivestream @ThePhina
Just brilliant. #aiwwLiveStream So glad I didn't have to miss the fellas in action. Great seeing performances up close! #ishouldbepacking @Mei_Mac
Mr Wong just gave the finger to the camera. Didn't do that on press night: a camera from and out to the world tonight! #aiwwlivestream #aiww @SamuelBrenton
Also, how freaking amazing is it that the real aiww is watching the #aiwwLiveStream from China? This is what the Internet was invented for. @MarieMJS
Thks aiww I´m watching #aiwwLiveStream from China @Iago
wow wongrel is giving the performance of his life.. Benny you absolute legend. #aiwwlivestream @OliverBiles
Must say just clicked on to #aiwwLiveStream (seeing it Monday for realz lads) the quality is brilliant Hamps_Theatre @NHBPerforming
just listen to their tweets ! #aiwwLiveStream @nfjinjing
Seems like #aiwwLiveStream Hamps_Theatre going down a treat @Mano99
Applauding in my bedroom feels strange #aiwwlivestream @TheodoreBass
Well, that was brilliant. Loved it. Benedict Wong was incredible to watch. Hamps_Theatre #aiwwlivestream @tomortonsmith
#aiwwlivestream very cool thanks so much to all who made it possible @gemscrimshaw
FAB…#ViewFromTheStage #aiwwLiveStream @MAbarbswynters
Thank you Hamps_Theatre for sharing Ai Weiwei's story with everyone #aiwwlivestream @mkmswaine
Thank you for sharing. #aiwwlivestream @farcukt
#aiwwLiveStream amazing! Such excellent acting and an incredibly moving piece. Thank u Hamps_Theatre for giving us this @staceyparmaul
#aiwwLiveStream Brilliant! Saw it at Hamps_Theatre on Sat, had to watch again! wongrel is outstanding @Stephnimmo
'Theatre can be something incomparably more than just a play' – Václav Havel. How he would have loved the excellent #aiwwLiveStream tonight. @dazzaross
Bravo! Bravo! wongrel #aiwwLiveStream @songwammonger
Thank you Hamps_Theatre for a faultless performance and for FREE. #aiwwLiveStream @GaryWales
#aiwwlivestream what repercussions could there be for him in China? @bongle_waller
Just sitting down to the replay of #aiwwLiveStream Worth checking Hamps_Theatre website if you're #writing #theatre @mikewritesabit
Hamps_Theatre #aiwwLiveStream fantastic play and a powerful statement on many levels. thank you and well done! @kaysearmess
That was wonderful Hamps_Theatre, I'll count #aiwwLiveStream as one of my best nights at the theatre, even though I was in my living room @NIKJACEK
Excelente "The Arrest of Ai Weiwei" de Howard Brenton desde el Hamps_Theatre de Londres #Teatro #aiwwLiveStream @oswaldoquispe
Doing a standing ovation in the front room for our kid wongrel and the fab cast for #aiwwLiveStream Good work Hamps_Theatre folk! @thathenrywong
The Arrest of #aiww, extraordinary, compelling & inspiring play, shows how far we still are from a free world Hamps_Theatre #aiwwlivestream @annewabeke
#aiwwlivestream right now is just the most exciting thing. It's absolutely in everyone's interest to watch it right this instant. @garconneB
#aiwwLiveStream Made my night – congrats everyone!!! @LWong3000
wongrel Manged 2 catch #aiwwLiveStream down here in SE Asia. Awesome job. Sweaty & real. @danielfyork
Super impressed by Hamps_Theatre #aiwwLiveStream last night. Pushing the medium AND the message into the future. Inspiring stuff. @LillieG
KEEPING YOU SAFE AT HAMPSTEAD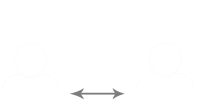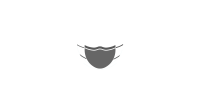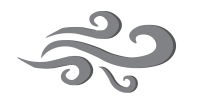 STATE OF THE ART VENTILATION