Tiger Country: Indira Varma researches her role
Posted on 11 November 2014.
Posted in: Main Stage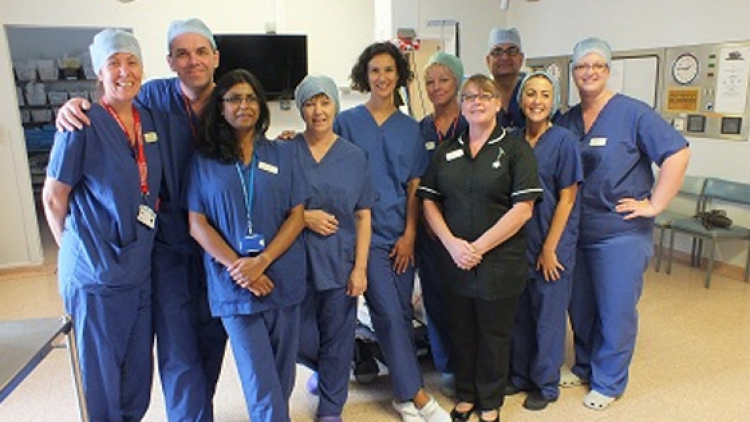 Photo: Indira Varma with theatre staff from Queen's Hospital, Burton-on-Trent
Stage and screen actress Indira Varma will be familiar to fans of the fantasy TV series Game of Thrones as Ellaria Sand, but this week she was at Burton's Queen's Hospital researching a very different role.
In December Indira will appear at Hampstead Theatre in Tiger Country, a play about a bustling NHS hospital. She plays Vashti, a urology registrar, a character that was based on Jyoti Shah who is now a consultant urological surgeon at Queen's Hospital. Indira was delighted to be given the opportunity to shadow Miss Shah for a day.
Miss Shah was working as a registrar in a London hospital when she was first approached by award-winning writer and director Nina Raine who had an idea for a play about the NHS.
"Nina asked if she could shadow me and went on to spend months embedded as a member of my team," said Miss Shah.
"We have become very dear friends down the years and Tiger Country feels very much like our baby," she added.
Five years after first meeting Miss Shah, Nina staged Tiger Country to critical and popular acclaim at the Hampstead Theatre in 2011, where its run almost completely sold out.
The theatre has now brought back the play for a second run from December 8 to January 17. Once Indira was cast as Vashti, Nina asked if the actress could spend a day shadowing Miss Shah.
Indira said: "I feel really privileged and so grateful to have been given the opportunity to spend a day with Miss Shah. It's very unusual to have this level of preparation for a role. I have so much respect for Miss Shah and what she does.
"I have also been surprised to learn that although 60% of medical students are female, only about 5 or 6% of consultant surgeons are female."
Indira shadowed Miss Shah – with the permission of patients – in clinic and in theatre. She said: "What has come across most strongly to me is the human side – how staff members have to break life-changing news to people, sometimes multiple times a day."
Miss Shah, who has worked at Queen's Hospital for six years, is the medical advisor on Tiger Country and will support the cast of 11 in rehearsals to ensure that all the medical procedures and terminology are accurate.
Miss Shah explained: "Vashti is a pivotal character in the piece and Nina moulded her on me. I think Tiger Country is brilliant. It's a very fast-paced play that dispels some of the myths about the NHS, but it has to be dramatic so there is some artistic licence."
"One key storyline focuses on how Vashti's character and approach to work changes when her aunt is brought into the hospital as a patient and things go wrong. That was an experience that I went through during Nina's time with me and that element of the play is based on what Nina saw happen and how it changed me.
Indira has appeared in a host of popular TV shows, such as Torchwood, Luther and Rome and appears regularly on stage – recently in the high-profile production of Titus Andronicus at The Globe.
She will start filming for season five of Game of Thrones next month and she also plays Miriam in Ridley Scott's new film, Exodus: God and Kings co-starring with Christian Bale, Ben Kingsley and Sigourney Weaver.
Click here to visit Burton Hospitals online
KEEPING YOU SAFE AT HAMPSTEAD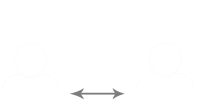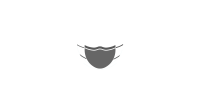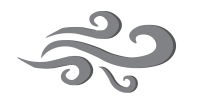 STATE OF THE ART VENTILATION