A Cup of Tea With... In The Vale Of Health's Jamie Ballard
Posted on 28 May 2014.
Posted in: Hampstead Downstairs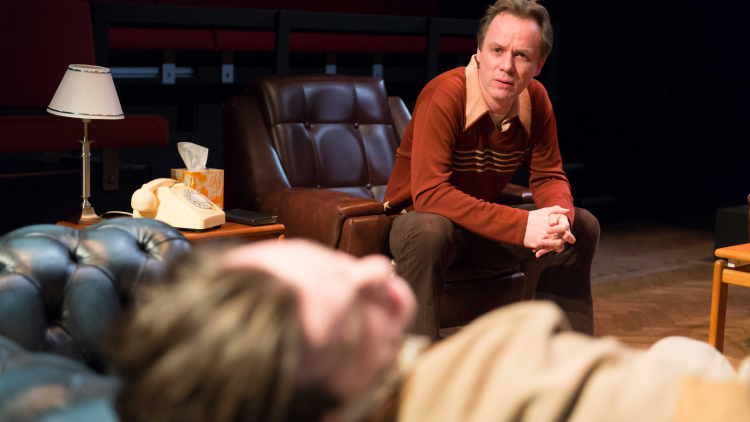 We grabbed Jamie Ballard between a sold out run Downstairs and a transfer to the Main Stage to talk playing Hamlet, Andrew Scott and favourite cheeses. Jamie is playing Michael in In The Vale Of Health which runs on the Main Stage 28 May – 14 June.
Welcome to Hampstead Jamie. Are you looking forward to moving to the Main Stage? How do you think it will differ from performing downstairs?
Thank you so much. I feel very lucky to be here. I am looking forward to moving upstairs very much and I am intrigued to see how it will impact on the playing of these four extraordinary plays. In practical terms, the distance between the pieces of furniture will be virtually the same – there will just be a little bit more breathing space between the feet of the front row of the audience and the furniture. I still believe it will be a very intimate, immediate, voyeuristic and exciting relationship between the audience and the characters. A lot of my early career was performing in the round at Shakespeare At The Tobacco Factory and I absolutely love it! For me, the closer the better.
Can you describe In The Vale Of Health in a nutshell?
That will be tricky, but I'll give it a go. It is Simon Gray's exploration of how emotions such as love, guilt & desire impact on individuals and their relationships and how that impact shifts and changes depending on such things as timing & awareness. It's an extraordinary journey through the psychological manifestations of these battles between utter love, self-doubt, guilt and lust, especially when played through the filter that is these characters who strive to do the right thing by each other.
What attracted you to In The Vale Of Health?
Just the whole nature of the project was fascinating – the like of which I had never seen in the theatre before. It presented a huge challenge. On top of that, I've always wanted to work at Hampstead and then throw Tamara Harvey in to the bargain, it was a very easy decision.
Tell us a little more about your character Michael.
Michael is an adoring elder brother, is desperately in love with his partner, a committed novelist, but also riddled with guilt and self-doubt. All this is compounded by his relative inability to express his feelings…..
How is Hampstead Downstairs different from other theatres you've worked in?
I have had the fortune of working in very intimate spaces in-the-round spaces – The Tobacco Factory and the old Arcola – and I love the wonderful intimacy that those spaces offer. Hampstead Downstairs is going straight onto the list of spaces I adore. There will be an acoustic difference between the two spaces, but we'll get used to that. I'm very much looking forward to seeing the main stage transformed!
Career highlights to date?
Playing Hamlet [at the Tobacco Factory in Bristol, 2008]. And this.
What play have you seen recently that you've really enjoyed? And why?
As the schedule for this has been so punishing, I haven't been able to go to the theatre for ages. It was only with this week off in between moving from Hampstead Downstairs to Upstairs that I have been able to catch a couple of things. I saw Fiona Shaw in The Testament Of Mary last night and she was extraordinary – her ability to devour the language, to swim about in it as well as her unbelievable focus and commitment to telling her story – amazing. I'm off to see my dear friend, Andrew Scott, tonight in Birdland at The Royal Court, and I just know he is going to blow me away – as he always does.
What was your first experience on stage?
My first experience on stage was playing the Roman messenger in the school Nativity. I must have been four or five at the time and I was very pleased as I had a great costume of Roman armour and I really wanted to impress Nicola Logan. However, I don't think this can really be regarded as my first experience on stage as I got stage fright and couldn't go on! Someone else had to go on and deliver my all-important line!
What would your dream role be?
Richard II. Iago.
Are there any actors that you are particularly inspired by?
My current cast mates are truly extraordinary and I take great inspiration from them all. I also remember watching Gary Oldman in State Of Grace when I was younger and thinking 'That's the sort of actor I want to be.'
Favourite places in London?
Oh lots! And it depends what for….I love just mooching around and discovering places. A perfect Sunday would be to go for a potter round Borough Market, then wander down the South Bank, dive into Skylon for a martini before heading across the water to one of my favourite little restaurants, ****** *******, for a romantic dinner. I agree with Gethin, that finding quiet in London is an extraordinary & defendable treat. I also love going with my brother to his local for a catch up over a quiet pint and a steak salad.
And finally, what's your favourite cheese?
I do love a piece of stilton with a glass of port. I'm also partial to some Boursin on a hunk of French bread.
KEEPING YOU SAFE AT HAMPSTEAD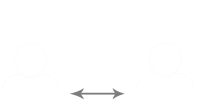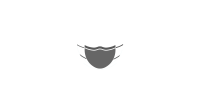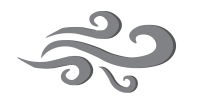 STATE OF THE ART VENTILATION